Florida is a prime location for those who love fun in the sun. With beautiful weather year-round, and plenty of exciting waterways and stunning scenery to explore, it's little wonder that the Sunshine State is a favorite destination for boaters.
Whether you love fishing, snorkeling, diving, or simply catching some rays with friends and family, chartering a vessel is a terrific way to enjoy a perfect day, weekend, or week on the water. But, unfortunately, getting a little sunburn is not the most serious issue you can run into. Charter boat injuries and incidents do occur, whether you are piloting them yourself or you've hired a crew.
What are the most common injuries, how can you work to avoid them – and what do you do if you are injured at sea?
*The laws governing navigable waters differ significantly from those governing land. If you do suffer an injury aboard or because of a charter boat, consult with a maritime injury attorney – in other words, a maritime lawyer with the specific expertise you need to ensure your rights are protected.
Danger at Sea
In 2004, 25 passengers set sail into the Baltimore Harbor aboard the Lady D. Minutes later, a sudden and ferocious storm capsized the boat. A horrible accident – or a preventable tragedy? Investigations revealed that the Lady D was dangerously overloaded.
The charter company used the US Coast Guard's current weight requirements – which were developed in 1942. Then, the weight of the average passenger was 140 pounds. The average weight of those aboard the Lady D was 168 pounds. Failure to take this into account contributed to the capsizing of the vessel.
The National Transportation Safety Board (NTSB) also faulted the National Weather Service for failing to issue timely warnings about the storm. They reported severe weather five minutes after the Lady D capsized. A private internet weather service, on the other hand, had been broadcasting warnings for up to an hour before. Lightning strikes were observed by two of Lady D's passengers before they departed.
Further, maritime veterans who reviewed the captain's statements concur that he should have never left the dock. The dark skies were reason enough to stay put. It is the captain's responsibility to search for signs of impending storms.
Essentially, these factors created a "perfect storm" that cost five people their lives and scarred 20 more.
This is an extreme example, but it does well to remind boaters and passengers to exercise caution. While safe in general, it is critical to select reputable charter companies with experienced captains. If you're opting for "bareboat," or a crewless charter, make sure that your "captain" is experienced and comfortable at sea – and, more importantly, comfortable making the call to stay docked if necessary.
More common are injuries such as the following: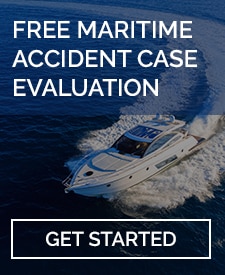 Slip-and-falls on slippery decks
Trips on uneven decks, misplaced objects, and raised thresholds
Accidents caused by intoxicated crew members or passengers
Fractures resulting from sailing on rough waters
Traumatic head injuries caused by collisions and groundings
Injuries caused by improper dockings
Falls overboard
Eating contaminated food (this is relatively common aboard cruise ships but can happen on any vessel)
Amputations caused by swinging doors or hatches
Physical and/or sexual assault
Your Rights
Charter boat owners, operators, and captains are held to a high standard when it comes to ensuring the safety of their passengers. They can be held liable for injuries caused by the dereliction of that duty. For example, if a captain makes a decision to depart in rough seas or with storms approaching, he can be held liable for any injuries incurred.
Some accidents are truly just that: accidents. Most incidents involving charter boats, though, come down to negligence, misconduct, operator error, lack of training, and lack of proper safety equipment.
Establishing fault is essential in ensuring you receive the compensation to which you are entitled. This is why consulting with a boat accident attorney is critical. This professional can help you gather evidence and develop a compelling case.
Another reason to engage a maritime lawyer? This is not personal injury; maritime law is a legal category all its own, and it has unique nuances of which other attorneys may not be aware. For example, there is a three-year statute of limitation when it comes to general maritime injury cases. That is, you must file a lawsuit within three years of the date the accident occurred.
In some cases, most notably cruise ships, the statute of limitations is far shorter (six months is not uncommon). You need a legal representative who knows the ins and outs of maritime law, and who can help you navigate its sometimes rough waters.
If you have been injured on a charter boat, regardless of whether you were operating it or it came with a crew, do not hesitate to consult with the legal team at the LaBovick Law Group. Our attorneys have decades of experience in maritime law and a track record of pursuing clients' interests with relentless drive.