How does the Social Security Administration determine I am disabled? It's a common question asked of Social Security Disability attorneys everywhere. Following is an answer providing a better understanding of residual functional capacity.
The Social Security Administration, or SSA, evaluates all claims with a five-step sequential evaluation process. Steps 4 and 5 of the evaluation are the most commons ways an individual is found disabled. Meaning, these ways meet the SSA's definition of disability requiring an individual to be incapable of performing work at substantial gainful levels for a minimum of 12 months. Steps 4 and 5 of the evaluation consider whether the individual is able to not only perform his/her past relevant work but also whether he/she is able to perform any other work listed in the national economy.
In determining whether you are capable of working, the SSA will first determine your physical or mental capabilities, known as your residual functional capacity, or RFC. Your RFC is the MOST you can do in spite of your medical conditions, not the least but the most.
The SSA learns what your capabilities are by performing an RFC assessment. Depending upon your disability, the RFC assessment that is performed will be either physical or mental. Oftentimes, individuals suffer from both physical and mental limitations, which would mean both a physical and mental RFC assessment would need to be performed.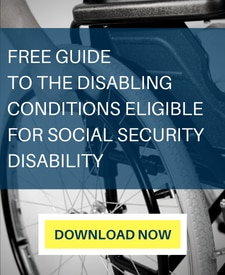 Your physical RFC determines what level of activity you are capable of – e.g., whether you are able to perform a sit-down type of job or whether you could do very heavy work like construction. There are five possible exertional levels for your physical RFC: sedentary, light, medium, heavy, and very heavy work. Sedentary work means you are able to lift up to 10 lbs occasionally and sit for at least 6 hours in an 8-hour day. Light-level work means you are able to lift 10-20 lbs occasionally with being able to stand and or walk for 6 hours in an 8-hour day. Medium-level work requires an ability to lift 25-50 lbs occasionally with an ability to stand for 6 hours in an 8-hour day. Heavy and very heavy work requires an individual to lift more than 100 lbs occasionally during an 8-hour day.
Your mental RFC will be determined by your ability to understand and remember, through social interactions, concentration, and your ability to adapt. The SSA considers your ability to understand, carry out, and remember instructions. The SSA will look at the level of instruction, whether complicated or simple, to determine the level of work you could perform. If you struggle with understanding, carrying out, and remembering simple instructions, you will most likely be found to be disabled.
Your social interactions refer to your ability to interact not only with the general public but also with your co-workers and supervisor. If you have difficulties interacting with people, this could significantly impact the types of jobs you could perform. It may not restrict you from performing all types of work, but it would certainly limit the number of jobs you could do.
Your ability to concentrate looks at your ability to maintain concentration, persistence, and pace. Generally, if you would be off-task more than 20% of the day, you would be hard-pressed to find an employer who would make that type of accommodation for you.
Adaption refers to your ability to handle normal work stress. It looks at your ability to handle and respond to normal changes in the work environment.
Once your RFC assessment is complete, the SSA will then consider whether you can perform your past work and other work based on your physical and/or mental RFC. As mentioned, this is the most common way to be found disabled, but also tends to be the most technical. Obtaining experienced representation from a Social Security Disability attorney will be your best chance of proving you are unable to perform your past work or other work in the national economy. There is certain evidence that can help counteract the SSA's information, which can be obtained with the help of experienced Social Security Disability attorneys.