Lymphoma is a type of cancer that develops in the lymphatic system. Cancer starts in the white blood cells called lymphocytes, which are designed to help fight infection and disease as part of the body's immune system. Because lymph tissue is found throughout the body, lymphoma may develop anywhere in the body. However, there are six common sites where lymphoma forms in the lymphatic system. These sites include the lymph nodes, spleen, bone marrow, thymus, adenoids, and digestive tract.
There are two different types of lymphoma: Hodgkin's lymphoma and non-Hodgkin's lymphoma. This article, written by an experienced Social Security Disability attorney, specifically focuses on the non-Hodgkin's lymphoma condition.
Non-Hodgkin's lymphoma accounts for approximately 4% of all cancer diagnoses in the United States. An estimated 74,000 Americans currently suffer from this condition. Non-Hodgkin's lymphoma can spread quickly or very slowly. Regardless of how quickly this cancer grows, one thing this condition is known for is that it will eventually spread to other parts of the lymphatic system if left untreated.
In some cases, there are federal benefits available if you are diagnosed with non-Hodgkin's lymphoma. One federal benefit may include receiving Social Security Disability Insurance. This benefit includes a monthly monetary check along with health insurance from either Medicare or Medicaid. When applying for Social Security Disability Insurance benefits through the federal government, the Social Security Administration will evaluate how your condition affects your ability to work. This evaluation is done typically by reviewing medical records.
There are two ways to be found disabled from Non-Hodgkin's lymphoma: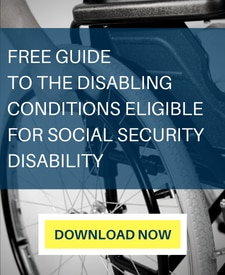 Show you meet or equal one of the SSA's listed conditions. The Social Security Administration, or SSA, has a list of medical conditions which it deems automatically disabling if you can prove certain elements. For non-Hodgkin's lymphoma, the SSA will evaluate your claim under Listing 13.05 for lymphoma. There are four possibilities under the 13.05 listing to be found disabled. The first is to show you are diagnosed with non-Hodgkin's lymphoma along with proving the lymphoma is aggressive, persistent, or recurrent following initial anticancer therapy.  The second possibility would be to prove the treatment failed to achieve a clinically complete remission with recurrent lymphoma within 12 months. The third possibility is to undergo a bone marrow or stem cell transplant. If this occurs, the automatic disability period will last for a minimum of 12 months. The fourth and final possibility to prove you meet a listing for non-Hodgkin's lymphoma is to show you have a diagnosis of mantle cell lymphoma.
Prove you are unable to perform your past relevant work along with being unable to perform any other type of work in the national economy. If for some reason you are not found disabled based upon your diagnosis of non-Hodgkin's lymphoma, the SSA will consider how your physical and mental capabilities have impacted your ability to work. However, with a diagnosis of non-Hodgkin's lymphoma, individuals typically do not make it past the listing argument.
Battling non-Hodgkin's lymphoma requires a significant amount of medical treatment, typically urgently. If you have received a non-Hodgkin's lymphoma diagnosis, it is recommended you seek representation from a Social Security Disability attorney to ensure your claim is evaluated and approved as quickly as possible to relieve the financial burden from your shoulders.