Do you qualify for disability benefits for diabetes? The answer is, "It's complicated." Diabetes is a medical condition wherein an individual's blood sugar or glucose levels are too high. Glucose is the body's main source of energy. Insulin helps to break down the glucose into energy for your body. Oftentimes, your body either produces too much insulin or not enough insulin. In those cases, the glucose is not broken down into energy.
There are two types of diabetes: type I and type II. Type I diabetes occurs when the body does not produce insulin. This type of diabetes is generally diagnosed in children and young adults. To treat this condition, you will need to take insulin daily. The second type of diabetes is type II. This condition occurs when your body may produce insulin, but it does not produce it well. Meaning, your body may be producing too much insulin or not enough, but it does produce some. This condition is the most common form of diabetes and can be diagnosed at all ages — although it is commonly diagnosed in people who are middle-aged to older.
Unbalanced insulin levels or high glucose levels, while treatable, may cause over time secondary symptoms related to heart disease, stroke, kidney disease, eye problems, dental disease, nerve damage, or problems with your feet. These secondary symptoms may cause difficulties both physically and mentally that could prevent you from working. If this is the case, social security disability may be the right program for you.
Social security disability is a federally mandated insurance program that provides monetary benefits along with health insurance for those individuals who are unable to work due to a physical and or mental condition. To qualify for these benefits, you must prove you suffer from a severe medical condition which either currently affects your ability to work for a minimum of 12 months, is expected to last for 12 months, or will result in death.
As with most government agencies, the social security administration does not make the application process easy. There is a significant amount of information necessary to prove you are disabled, including information about your work history, your medical treatment, as well as a number of questionnaires regarding your capabilities. This process can take anywhere from 3-6 months at the initial stages, while most cases require a hearing (which could take 2-3 years).
Steps to Apply for Disability Benefits for Diabetes
When you apply for disability benefits for diabetes, the social security administration will evaluate your claim on a five-step basis. The first evaluation point is determining whether you are currently earning over the allowable monthly amount in working income. The regulations say you can still work and qualify for disability benefits for diabetes, as long as your working earned income is less than substantial gainful activity. Substantial gainful activity (SGA), is a monthly measure for income, which changes yearly. In 2018, SGA is $1,180 a month in gross earnings. If you are earning less than SGA, or not working at all, you will be deemed to have passed Step 1 in the process.
Step 2 evaluates whether the medical condition you are alleging is severe or not. The severity threshold is minimal, meaning you simply need to show your medical condition has more than a minimal effect on your ability to work. This can be either physical or mental. Or, as the social security administration (SSA) terms it, exertional limitations or non-exertional limitations. Because this threshold is so low, most people suffering from a medical condition will pass step 2.
Step 3 considers whether you meet a social security listing. These listings are medical conditions which the SSA deems to be disabling, as long as you have the medical evidence to support them. The SSA used to evaluate diabetes under listing 9.00. However, this listing was removed in 2009. Currently, there is no exact listing for diabetes. There are other listings which may qualify you based on the secondary effects of your diabetes (such as retinopathy and neuropathy).
If your diabetes is causing vision impairments, the SSA would evaluate your condition under listing 2.00. If your diabetes is causing neuropathy in your hands or feet, the SSA will consider your condition under listing 14.00. More often than not, the SSA will evaluate these listings using a medical doctor — someone other than your own treating provider. This person will review the medical records and determine whether the condition and symptoms match the requirements of the listing. It is not easy to meet a listing, which is why more than 70% of cases require evaluation under the 4th and 5th steps of the process.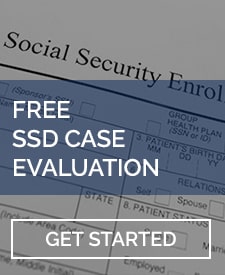 If you do not meet a listing, before moving on to the 4th and 5th step, the SSA will determine your residual functional capacity (RFC). Your RFC is the most you can do both physically and mentally, in spite of your medical conditions. You will be evaluated on not only how much you can and carry, but on how much you can walk, sit, stand, reach overhead, bend over, and so on. You will also be evaluated in terms of your attention and concentration, memory, and reliability. Again, your RFC is determined based on your medical records. If you do not seek medical treatment, or your treating provider does not note limitations in the medical records, the SSA will not have enough evidence to properly determine your RFC — which ultimately will result in a denial of your disability benefits for diabetes.
Once your RFC is determined, the SSA will evaluate your application at step 4. This step requires showing proof of an inability to perform your past relevant work. Past relevant work is any work you have performed at the SGA level, while also performing it long enough to learn it in the past 15 years.
If your RFC prevents your past relevant work, the SSA will then consider if there is other work you could perform in the national economy — which is step 5. If the SSA determines your limitations are work preclusive, not only in terms of your past work but also in terms of any other type of work, you will then be found disabled under the SSA's standards.
As you can imagine, this 5-step evaluation is not an easy system to navigate. Especially if you are focused upon your medical condition. If your body is producing too much insulin or not enough, and you are suffering severe effects from your diabetes diagnosis, you should contact an experienced disability attorney for help with the social security disability application process. There is no reason to try to navigate applying for disability benefits for diabetes on your own.
At LaBovick Law Group, we work on a contingency basis — meaning we only get paid if we are able to secure you disability benefits. Call us today for a free disability case consultation.