Have you been injured as a result of another party's negligence, carelessness, or recklessness? Whether it was a car accident or a slip and fall, if someone else caused you to suffer harm, you have the ability to file a personal injury claim with the help of an experienced Personal Injury Attorney at the LaBovick Law Group.
As personal injury lawyers, we realize the question of whether or not you should, though, may weigh heavy on your mind. It may not be a difficult question if you've suffered a significant, costly injury that is obviously caused by someone else's actions – or inactions. But not every situation includes that level of clarity. However, in most situations, you will likely want to file a claim. Not sure? Here are four reasons to consider it.
1. Your Health Matters
If you've been injured, your health has to come first, as the medical care you need right now could have you struggling with debt in the years to come. The money from a personal injury claim can help you deal with those bills. In fact, many studies have shown that the funds recovered in personal injury cases typically only cover required medical procedures.
Often people tend to think only of the money as a reward, but paying for medical care can be a long, frustrating process, and filing that personal injury claim could mean you have the opportunity to get the treatment you need after an injury. Even if you have good health insurance now, there may come a time when your accident maxes out your coverage, and that could be a problematic financial situation for your family.
2. The Law Matters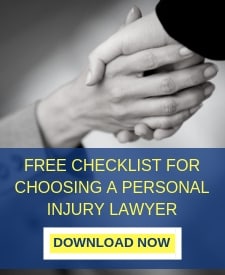 A personal injury claim isn't just about the money. Often it is about ensuring the same thing doesn't happen in the future. The reality is that a successful claim can only happen if proof is available that the law was broken. The individual making the personal injury claim is actually helping to ensure that the same situation doesn't happen to another person.
Hopefully, those responsible will likely pay more attention to the safety of others in the future. Imagine, for example, you were injured because someone ran a stop sign. Maybe yours isn't the first accident at that intersection. It could even be that your case spurs the local community to take action and put in better traffic control measures in that area.
Personal injury cases can help create real change in the community.
3. Accountability Matters
When you buy an insurance policy and make regular payments, you expect them to be there for you when something happens. That's not always the case, as so many accident victims find out.
Insurance companies are in the business of generating revenue, and their goal is to keep as much of their profits as they possibly can. Every time you make a claim, they lose a bit of money, so it is common practice to deny or minimize claims as frequently as possible. Not very many people think about that, though. You have the right to hold insurance companies accountable, and you do so when you file a personal injury claim to get the compensation you deserve.
4. Your Ability to Work Matters
If something were to happen to you, how would your family get by? If you choose not to file a personal injury claim, you choose not to hold the insurance companies responsible. Instead, often, the individuals who end up helping you in the toughest times are the taxpayers.
Because many people are out of work when an injury happens, government programs often become the only source of sustenance for families. Instead of filing a personal injury claim, some people just rely on government benefits for help, and that means others who have worked hard and deserve those benefits may not receive them.
Using the money from a personal injury claim to get back on your feet is often a better idea, as then it allows others who don't have the ability to file a claim to take advantage of those benefits instead.
Why Don't Most People File?
In light of reasons like these, you may be wondering why many people choose not to file a personal injury claim. There are several factors at work. Fear is the first one. The simple idea of filing a claim because someone else made a mistake seems cold to many people. It may even feel like you're being vindictive.
The reality, though, is quite different. The insurance company typically pays the price in a personal injury claim, and that means the other party isn't necessarily going to see this as necessary punitive.
Time is the other real factor that keeps so many from filing a claim. Many fear this process will take up far too much of their lives. That's just not true when you hire an attorney to handle the case for you.
While every case is different, the amount of time you need to invest when you have the right attorney or team of attorneys on your side is usually minimal. Cases with good evidence and great attorneys can usually be settled early on. The time you have to spend working on it is next to nothing. It's usually the attorneys who bear the brunt of the burden, and the recovery is often good enough that it's worth it for everyone involved to take legal action.
In the end, it's always going to be your choice whether you should file a lawsuit. No matter what choice you make, though, your best bet is to at least set up a consultation session with experienced South Florida personal injury lawyers who can help you make a decision.
Explore your options, then give us a call for a free, no-obligation session today. It will help you make an educated decision that may benefit your life greatly.