Seeing a doctor after a car accident is a critical step to take in order to safeguard your health and wellbeing – and to ensure that you receive proper compensation from insurance companies or have the legal ammunition you need if you must pursue a case. When should you go? The best answer is immediate.
Why Seeking Medical Attention ASAP Is Important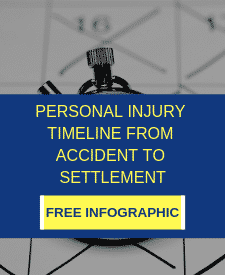 First and foremost, it's about your safety and physical health. Car accidents can cause a variety of injuries from broken bones to concussions to internal bleeding. Without proper evaluation and treatment, many conditions worsen and can have life-altering effects.
Another reason to see a doctor (an emergency room doctor is recommended) is for insurance purposes. Insurance companies typically require you to see a medical professional within 72 hours of your accident. They consider this a "reasonable" amount of time. If you do not seek help within that time frame, they may deny your claim and keep you from obtaining the compensation you need – and that you are owed.
Never wait to seek medical attention. Your health, and your rights, are on the line.
Seek Ongoing Care if Necessary
It is not uncommon to experience car accident pain days later. Some injuries, such as brain and spinal injuries, internal bleeding, concussion, etc., may not be felt immediately. In fact, you may feel fine, albeit a little shaky, after an accident. Symptoms may then present themselves hours or days later. After you are checked out initially, be on the lookout for symptoms that could signal more significant injury, including:
Dizziness
Pain in the head, neck, shoulders, back, and/or abdominal area
Weakness or numbness
Headaches
Difficulty sleeping or concentrating, intrusive thoughts about the accident, and other signs of emotional disturbance. These can be indications of physical injury, such as brain trauma, or they can be symptoms of post-traumatic stress disorder (PTSD).
The doctor who sees you in the emergency room should provide you with a list of symptoms to look for. If you experience them, seek medical help as soon as possible.
Tips for Receiving Full Compensation
As mentioned, seeing a doctor after a car accident is a safe move. Do not delay an evaluation and treatment for injuries. Other steps to take to ensure you receive proper compensation and/or that you are able to build a compelling case should you take legal avenues:
Document Everything About Your Injury. Keep records and receipts relating to every doctor's visit, every visit to a specialist, and every medication and assistive device (e.g., crutches, braces, etc.) you are prescribed by medical professionals. Make a note of your pain level on a scale of 1-10 and any inconveniences you are experiencing as a result of your injuries (e.g., not sleeping, not being able to work, difficulty completing daily tasks, etc.).
Do Not Admit Fault. After a car accident, it's natural to say, "I'm sorry! Are you ok?" – whether or not it was your fault at all. We're human. Insurance companies are not! They are profit-generating entities, and they want to minimize the amount of money they have to payout. Apologizing or admitting fault can put your ability to recoup compensation at risk.
Call the police. Again, do not admit fault. Give a clear statement as to the events that led up to the crash. Make sure you get an incident number so you can obtain a complete police report.
Do Not Settle. Insurance companies will often throw out a low-ball settlement offer. They're hoping you'll accept and get out of their hair. The problem with that is the offer may not cover the cost of your injury and related expenses. If your condition worsens or lasts longer than you expect, that sum will quickly be depleted.
Do Not Sign Release Forms. Signing forms before you are ready to completely settle may release the insurance company from the responsibility of paying additional claims.
Contact a Personal Injury Attorney. Make sure they have extensive experience in car accidents specifically. It is strongly recommended that you do this before you speak with the other party's insurance company. Your legal representative can handle communications with these companies on your behalf.
Seeing a doctor after a car accident is a critical step. Do this as soon as you can and no later than 72 hours after your accident. It's about your physical safety, of course, but also about your ability to receive full compensation for any injuries. The personal injury lawyers of the LaBovick Law Group have decades of experience in this area of the law and a strong track record of successfully negotiating with and going to court against insurance companies. Protecting your rights is our first priority.
If you have been involved in a car accident, contact us for a complimentary consultation. We are here to fight for you.