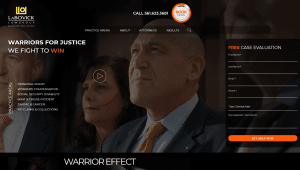 We are thrilled to announce that LaBovick Law Group has launched a new website at www.labovick.com! Our goal with this new website is to provide our visitors with an easier way to learn about LaBovick Law Group's practice areas and services, and also to browse information, find out quickly if you have a case and more, with great design and user experience at the forefront of our design planning.
Here are the top 5 new features that we are excited to share with our visitors:
Mobile-first design: We aimed to create a consistent yet unique experience for our visitors by first designing the site based on the mobile user experience. We want our visitors to see what they need to see and navigate our site quickly on any device.
Fast speed: We understand that your time is precious! Our new site features boosted website speed and quick page loads.
Beautiful design: The new site really shows what LaBovick Law Group is all about — fighting for our clients' rights!
Better user experience: In creating the new site, user experience was absolutely top-of-mind. ADA compliance was key, and we also wanted users to have the ability to chat with us in real-time, easily navigate to find the information necessary, and more!
Quick contact: Our forms are connected directly to our Intake Team, who will respond quickly to handle your needs! Whether you're filling out a free case evaluation form or simply want to book an appointment, our team will contact you right away!
We are very excited about our new website launch and hope you'll take a few minutes to check out our new website and let us know what you think!