Charcot-Marie-Tooth Disease and Disability Benefits
Charcot-Marie-Tooth disease is a hereditary disorder that damages the nerves in your arms and legs. Charcot-Marie-Tooth (CMT) disorder affects the peripheral nerves and is just one of the many types of peripheral neuropathy that can qualify you for disability benefits. Most often peripheral neuropathy is caused by diabetes mellitus. However, CMT is a genetic disorder that also affects the peripheral nerves.
So how can you get disability benefits for peripheral neuropathy? When the neuropathy you experience is severely limiting, such that it affects your ability to maintain regular and continuous employment.
CMT affects approximately 2.8 million people worldwide. This condition damages the nerve fibers which results in neuropathy. Because the nerves in your arms and legs are the longest they are usually the first affected. Symptoms typically begin in your feet and legs, eventually working their way up to your body to your arms and hands. This can make walking a very difficult task. Some of the major symptoms include: muscle weakness, decreased muscle size, foot deformities, foot numbness, and loss of balance. This type of condition tends to worsen over time.
To prove disability based on CMT, you must show your condition is not only severe but also that it prevents you from performing your past work along with any other type of work in the national economy. The Social Security Administration (SSA) does recognize the severity of peripheral neuropathy through disability Listing 11.14. If you meet or equal this listing, then you will be found disabled without having to consider your ability to perform past work and other types of work.
To prove you meet this listing you would need to show you have been diagnosed with this condition and that you experience disorganization of motor function in spite of prescribed treatment. Generally, it is difficult to meet or equal a listing. If you don't meet a listing then SSA will consider what your residual functional capacity is and whether you are able to perform your past work and any other types of work in the national economy.
If you suffer from CMT and are struggling to maintain employment I urge you to seek legal advice regarding your options for Social Security Disability (SSD) benefits. SSD benefits are meant to be a safety net for individuals suffering from severe health problems which pose barriers to work. This program might be the perfect fit for you if you suffer from CMT.
Is Charcot-Marie-Tooth Disease Disabling?
Charcot-Marie-Tooth or CMT is a hereditary disease. This condition causes motor and sensory neuropathies characterized by progressive loss of muscle tissue and sensation. This is a type of peripheral nerve disorder wherein damage is done to the peripheral nervous system. CMT is the most commonly inherited peripheral nerve disorder, affecting approximately 1 in every 2,500 people. Most people suffering from CMT experience muscle loss and loss of sensation but in some extreme cases, individuals could have respiratory issues. This condition is not considered fatal, but it is also not curable.
Being diagnosed with CMT is a lifelong progressive disorder. Typical symptoms of CMT include weakness in legs, ankles and feet; loss of muscle in legs and feet; high foot arches; hammertoes; foot drop; and awkward or higher than normal step. This condition is diagnosed through the use of electromagnetic testing such as nerve conduction velocity test. This type of test measures the strength and speed of electrical signals moving down the peripheral nerves. If there is a delayed response that is a sign of demyelination. If there is a small response that is a sign of axonopathy. Because this condition targets mainly your lower extremities, this condition typically affects all activities an individual would perform. While there is no cure for CMT some treatment options may include physical therapy, occupational therapy, braces, pain medication or even surgery.
If you have an advanced case of CMT you should be able to obtain social security disability benefits. That is as long as your condition is preventing you from working. More than likely you have either heard of social security disability or you have known someone who has received those types of benefits. But what is the social security disability program? This is a federally mandated insurance program that provides monetary benefits along with health insurance for those individuals who are unable to work due to a physical and or mental condition. To qualify for these benefits, you must prove you suffer from a severe medical condition which either currently affects your ability to work for a minimum of 12 months, is expected to last for 12 months, or will result in death.
When you apply for disability benefits, Social Security will evaluate your claim on a five-step basis. The first evaluation point is determining whether you are currently earning over the allowable monthly amount in working income. The regulations say you can still work and qualify for disability benefits, as long as your working earned income is less than substantial gainful activity. Substantial gainful activity, or SGA, is a monthly measure for income, which changes yearly. In 2019, SGA is $1,220 a month in gross earnings. If you are earning less than SGA, or not working at all, you will be deemed to have passed Step 1 in the process.
Step 2 evaluates whether the medical condition you are alleging is severe or not. The severity threshold is minimal, meaning you simply need to show your medical condition has more than a minimal effect on your ability to work. This can be either physical or mental. Or, like social security terms it, exertional limitations or non-exertional limitations. Because this threshold is so low, most people suffering from a medical condition will pass step 2.
Step 3 considers whether you meet a Social Security Listings. These listings are medical conditions that SSA deems to be disabling, as long as you have the medical evidence to support them. Social Security used to evaluate an individual diagnosed with CMT under Listing 11.14. This Listing is specifically for peripheral neuropathy, which CMT is a subset of. This Listing requires the proving of either the A or B criteria. To meet the A criteria, you must show disorganization of motor function in two extremities resulting in an extreme limitation in the ability to stand up from a seated position, balance while standing or walking, or use the upper extremities. The B criteria require marked limitation in physical functioning and also marked limitation in understanding, remembering or applying information, interacting with others, concentrating, persisting or maintaining pace, or adapting or managing oneself. Proving you meet or equal a listing is completely dependent upon the medical treatment you have received. If you are treating with a specialist, such as a rheumatologist or a neurologist who is documenting the physical limitations, your chances of being found disabled based upon this listing are pretty good. On the other hand, if your medical treatment is limited due to a lack of health insurance, you likely will not be found disabled based upon this listing.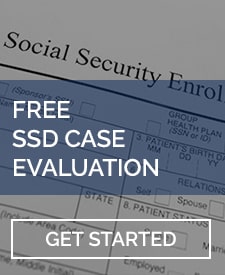 If you do not meet a listing, before moving on to the 4th and 5th step, SSA will then determine what you are physically and or mentally capable of doing. This is determined based upon the most you can do, not the average or minimum. This again is typically determined based upon medical evidence. Without medical evidence, it will be difficult to document to Social Security what your limitations are.
Once your RFC is determined, SSA will evaluate your application at Step 4. This Step requires a showing of proof of an inability to perform your past relevant work. Past relevant work is any work you have performed at the SGA level, while also performing it long enough to learn it in the past 15 years. IF your RFC prevents your past relevant work SSA will then consider if there is other work you could perform in the national economy, which is step 5. If SSA determines your limitations are work preclusive not only in terms of your past work but also any other type of work, you will then be found disabled under social security's standards.
Being diagnosed with CMT can be a scary situation. Especially if your condition is preventing you from working to earn an income. If you fall into this category, you should obtain counsel from an experienced disability attorney. At the LaBovick Law Group, we provide free consultations so as to determine if this is the right program for you. Call us today, you have nothing to lose.