When you're injured at work, the first response may be physical. You deal with the pain; you see a doctor; you treat the injury. But then other concerns begin pressing in on you: how will you pay for all of these medical expenses? If you can't work, how will you cover your bills and provide for your family? You have so many questions running through your mind.
Here are the top 10 you should ask a workers comp lawyer.
First, do I really need work comp attorneys?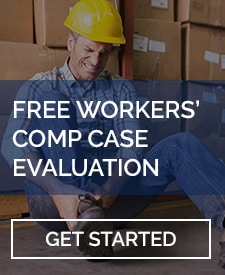 It depends. If your injury is completed healed and you only missed a day or so of work, you may find that hiring a lawyer is a step you don't need to take. Hopefully, this is the case!
But if your worker's comp claim is denied (e.g., because a claims administrator deems it was no work-related), then this is an option you should consider. When denied, the insurance company will not cover medical expenses and temporary disability benefits.
You may also need a lawyer if your injury resulted in permanent impairment. It is all too common for insurance companies to minimize permanent disability benefits. This can leave you without adequate financial support to meet your obligations and to work on your recovery.
What if the accident was my fault?
There are some instances in which you can be denied workers comp because of your actions: for example, if you were intoxicated or started a fight that resulted in your injury, you are not eligible. However, in general, the fault is not an issue. You are still entitled to these benefits.
What kind of workers comp benefits can I get?
Workers comp insurance should cover medical bills related to your injury, and if you miss more than three days of work, you are also entitled to temporary disability benefits. Be aware that there are caps on some types of treatment (e.g., physical therapy, chiropractic care, etc.).
You may also be able to receive permanent disability benefits if your injuries are long-lasting/chronic.
Ask a workers comp lawyer about your specific situation: you may be entitled to other benefits, such as retraining vouchers. And, if a family member has died as a result of a work-related accident, you may receive death benefits.
What should I tell my doctor about my injury?
It is important to tell your doctor the truth about your injury, especially the extent of any pain or discomfort. This allows them to treat you to the best of their ability. You should also discuss the impact it has had on your life.
What if the claims administrator wants to talk to me?
A claims administrator works for the insurance company and determines if you meet the criteria for workers comp. They may want to speak to you to verify the cause of the injury and other details. It is important that you speak with them – but seeking legal advice before you do so is often a smart move. You do not want to inadvertently damage your ability to receive compensation.
What if my employer offers me other work?
In some situations, your doctor will allow you to work with temporary restrictions. You can, for example, return to work on a "light duty" basis. It can get tricky, though: what if light duty doesn't exist in your job? What if even that type of work impedes your recovery or makes your injury worse? What if your employer refuses to accept your doctor's recommendations for temporary restrictions?
You can speak to your worker's comp doctor to see if you really are ready for work and/or to the claims administrator. Do not fail to show up for work. This can impact your ability to receive compensation. If you are struggling with this, it is best to speak to a workers comp lawyer immediately to ensure your rights – and your recovery – are protected.
Will I have to go to a hearing?
Probably not. Some claims are heard by a workers' compensation judge, particularly when there are issues about which your employer, the claims administrator, and/or your doctor disagree. Most of the time, however, you should be able to work out a settlement without a hearing.
Should I settle my claim?
If you have a long-lasting or permanent injury, do not settle until a doctor determines your injury has improved. You do not want to "jump the gun," so to speak, in case your injury worsens or other impacts make themselves known. Speak to a workers comp attorney about the best time to settle.
Can I sue my employer for a work-related injury?
In most cases, workers comp is the only remedy available for work-related injuries. When you accept this coverage, you are essentially giving up your right to sue. There are some instances when it makes sense to take legal action against your employer – but remember, if you do, you give up the right to receive worker's compensation.
If, for example, your employer intentionally caused you harm, does not carry the requisite worker's comp insurance, or in some other way prevents you from receiving the benefits to which you are entitled, talk to the work comp attorneys at the LaBovick Law Group as soon as possible.
How much does it cost to hire work comp attorneys?
The good news is that work comp attorneys work on a contingency basis. They do not get paid unless they are able to negotiate a settlement or win benefits in a hearing. Fees vary, so be sure to ask about this when searching for a lawyer.
Never be afraid to ask a workers comp lawyer any question relating to your injury, your workplace, your benefits, or the process itself. We are here to help you every step of the way.