There is no better place to spend the dog days of summer than on a boat. Lucky for visitors and residents of the Sunshine State, Florida is known for its endless summer. Whether you are longing for a leisurely cruise or seeking some thrills and adventure, you'll find ample opportunity for fun in the sun year round up and down Florida's beautiful coastline.
Keeping yourself, your passengers, and others on the water safe is always the top priority. How can you do your part to prevent accidents? Start with these key safety tips for boating.
Troubled Waters
According to the Florida Fish and Wildlife Conservation Commission (FWC), there were 766 boat accidents in 2017, an increase of 52 compared to 2016. Sixty-seven people were fatally injured. No one wants their excursion to turn into a tragic statistic. Follow these summer safety tips. A bit of sunburn or having a monster grouper, sailfish, or bass getaway should be your biggest problem.
1. Never Drink and Boat
Think a little "buzz" will not impact your safety and that of those around you? Think again. Just like on land, drinking impairs judgment, decision-making, balance, coordination, and reaction time. The presence of wind, sun, waves, spray, engine noise and other factors only exacerbates this. 
Alcohol can also make it difficult for someone who falls overboard to tell up from down; considering that the majority of boating deaths are caused by falls overboard, this can quickly turn into a deadly situation. Boaters with a blood alcohol level of 0.10 or more are ten times more likely to suffer fatal injuries in boating accidents. They also put their passengers at greater risk.
Drinking and boating is dangerous – and illegal. The legal limit for operating a boat, like a vehicle, in Florida is 0.08. Additionally, the Coast Guard enforces federal laws. These apply to everything from canoes to ships.
For a first offense, you may face: fines of $500 – $1000, up to six months in jail, probation, community service, and boat impoundment. Second and subsequent charges increase the severity of these penalties.
It is not worth it. Enjoy a cold beer or cocktail when you get back on land (and have a designated driver).
2. Always Wear a Life Jacket
As mentioned, falls overboard are the most common cause of boating deaths – and have been since 2003. According to the FWC, 81 percent of these victims did not have a life jacket on. The Coast Guard estimates that most of them could have been saved if they had been wearing this life-saving device.
The Coast Guard requires boaters to have approved life jackets accessible. Accessible means it has to be on board, but if you run into sudden trouble – and trouble tends to be sudden – it can be difficult to put it on in a hurry. Today's models are thinner and more comfortable than ever. And yes, they save lives. There is no excuse not to wear life jackets.
Florida requires that all children wear life jackets made specifically for their age and weight range. They should fit snugly. Make sure that the children's chin or ears cannot slip through. To test this, put on the jacket and lift the child by the shoulders of the jacket.
3. Know Overboard Procedures
Again, because falls overboard present such a danger, it is critical that you know what to do if such an incident occurs. First, turn off the motor and propellers. Boats larger than 16 feet are required to have a throwable life-saving device. Toss this to the individual and help them re-board.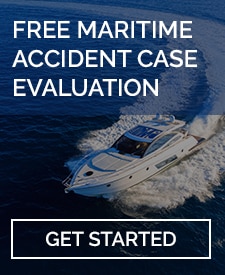 If the boat capsized and you are unable to turn the motor and propellers off, make sure everyone swims away from the boat.
When you have a life jacket on, you can float without burning too much energy. This enables you to check on everyone without quickly becoming exhausted. The key is to remain calm. Panic only makes a bad situation worse.
4. Stay Aware
Lt. Seth Wagner of FWC Boating and Waterways Section says, "For 2017, the leading contributor to boating accidents was the operator's inattention or failure to maintain a proper lookout. It is critical for operators to be diligent in observing and being aware of what is going on around them."
Of the 261 boat accidents that involved collisions, more than a third (38 percent) were caused by the operator's failure to keep a proper lookout. Florida is a prime boating destination, and there are scores of people out enjoying the water. Be on the lookout for them and for other potential hazards.
5. Know – and Follow – Florida's Boating Laws
If you were born on or after January 1, 1988, and operate a vessel with a 10hp motor or more, you must pass an approved boater safety course. You must also carry a photo ID and a boating safety identification card. This is issued by the FWC.
There are some exceptions to this rule (e.g. you do not need this if you are operating on a private lake/pond). In general, however, you need this education before you can head out on the water. Every boater can benefit from these courses.
6. Put Safety First – Always
Whenever you prepare to take your boat out, do a safety check. Do you have a full tank of fuel? Are your engine oil and transmission fluid levels correct? Are your electronic components in good condition? Do you have proper identification and certifications on you or onboard? Do you have a fire extinguisher, extra batteries, first aid kit, flares, and, of course, life jackets for you and each passenger?
The Coast Guard will also conduct a free Vessel Safety Check; take them up on this!
Before you head out, write up a float plan that includes your destination, who is on board, and when you plan on returning. Email it to a friend or family member. If you do not come back as expected, they can take this to the Coast Guard and/or local law enforcement to aid in the search process.
7. Be Propeller Smart
Propellers can cause significant damage and injury. Before you start your boat, make sure all passengers are on board and that no one is in the water near your vessel.
Make sure children understand the danger, and watch them carefully. They should avoid sitting in areas where they may fall overboard near the propellers. And as mentioned, if someone does fall overboard, turn off your motor and propellers immediately.
Follow these safety tips for boating, and you'll have a great season out on the water. However, accidents do happen. If you're injured in a boating accident, seek medical attention – then seek legal representation. Contact the team of South Florida maritime lawyers at LaBovick Law Group. We work tirelessly to protect your rights and get you the compensation you deserve.