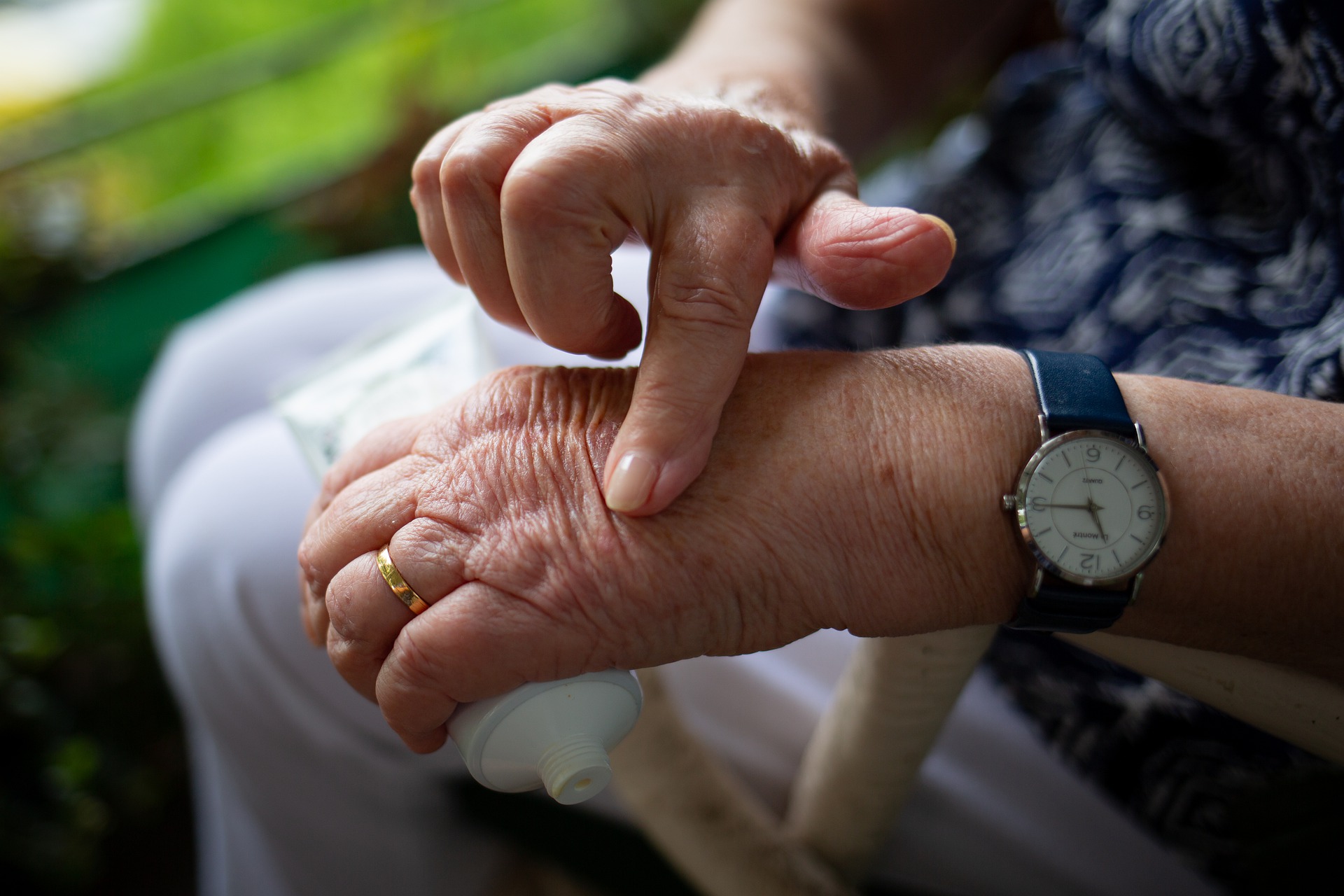 Rheumatoid arthritis is an often very painful autoimmune disease where the immune system does not function properly and attacks the lining of the joints. This causes a significant amount of inflammation in the body and can result in very painful swelling of the joints that may result in joint deformity and bone erosion. If the inflammation remains present for extended periods of time, it can cause irreversible damage to the joints. Rheumatoid arthritis typically affects the smaller joints of the body first, such as the fingers and toes. Some individuals with rheumatoid arthritis may have nodules on their fingers due to the swelling that is occurring in the hand joints. As rheumatoid arthritis progresses, it then may begin to affect larger joints within the body, such as the knees, hips, wrists, ankles, elbows, and shoulders. Individuals with rheumatoid arthritis often experience the worst joint stiffness in the morning, sometimes lasting up to two hours (or even the whole day). In addition to joint swelling and stiffness, many people with rheumatoid arthritis also experience fatigue and fevers of unknown origin. Some individuals with rheumatoid arthritis also develop Sjogren's syndrome, a disorder that results in dry eyes and dry mouth. Symptoms of rheumatoid arthritis may come and go; an activation or worsening of symptoms is known as a "flare." Rheumatoid arthritis may affect other parts of the body as well, such as the heart, lungs, and blood vessels. Rheumatoid arthritis is most frequently diagnosed between the ages of 30 and 50 and occurs more frequently in women than men.
Rheumatoid arthritis in its early stages is often difficult to diagnose, as its symptoms can be very similar to those of other conditions. Your doctor will examine your joints and look for swelling, warmth, and redness. There are also a number of blood tests your doctor may order to diagnose your condition. Blood tests may reveal an elevated ESR (erythrocyte sedimentation rate), which measures the amount of inflammation in the body. Blood tests may also check for the presence of rheumatoid factor (RA factor), which is an antibody commonly found in many people with rheumatoid arthritis. Many people with rheumatoid arthritis may also have antibodies to CCP (cyclic citrullinated peptide). In addition to blood tests, your doctor may also order imaging such as MRIs, X-rays, or ultrasounds to check for erosion of the joints or damage to other organs. Early imaging may not reveal abnormalities; however, joint erosion may begin to appear in imaging as the disease progresses. Therefore, it is important to continue to get updated imaging as your doctor recommends to determine the level of damage which may be occurring to the joints.
Doctors may treat rheumatoid arthritis with a number of different therapies. One common class of drugs includes DMARDs (disease-modifying antirheumatic drugs), such as methotrexate, hydroxychloroquine, and sulfasalazine. Those with more advanced rheumatoid arthritis may require biological drugs such as Humira, Orencia, Kineret, Cimzia, Enbrel, Simponi, Remicade, Rituxan, Kevzara, or Actemra.
Rheumatoid arthritis may make it very difficult to perform your activities of daily living. If you are struggling to engage in normal work activities due to rheumatoid arthritis, you may be entitled to Social Security Disability benefits. Social Security Disability provides benefits to those who have worked and paid taxes on their earnings with a condition that lasts or is expected to last for at least one year that prevents them from working. The Social Security Administration will follow a 5 step process when evaluating your eligibility for benefits. First, they will confirm that you are no longer engaging in substantial work activity after your date of the disability. This is evaluated by your earnings; if you are continuing to work but on a part-time basis, your earnings must fall below the "substantial gainful activity" threshold established by the Social Security Administration. In step 2, the Social Security Administration will determine whether you have a severe impairment. They will obtain your medical records from all of the providers from which you have been seeking treatment to perform this evaluation. Therefore, it is very important that you continue to seek treatment from your medical providers. In addition to seeing a primary care provider, those with rheumatoid arthritis should establish care with a specialist called a rheumatologist. Rheumatologists are doctors which specialize in autoimmune diseases who are best equipped to evaluate your symptoms in detail and direct your treatment. When you visit your doctors, they will perform a physical exam and document any observed symptoms of rheumatoid arthritis, such as joint deformities or fevers of unknown origin. They will evaluate your muscle and grip strength, especially if you are experiencing problems with using your hands for tasks involving fine motor skills. Any imaging that your doctor's order will serve as proof to the Social Security Administration of damage which may be occurring to your joints.
At step 3, Social Security will determine whether your condition meets the criteria of one of their "listings" of impairments. Some individuals with rheumatoid arthritis may meet the listing requirement for inflammatory arthritis; however, the criteria are very strict, often requiring that the person need an assistive device that requires the use of both hands, such as a walker. Very few people are able to qualify based on Social Security's listings alone. However, if you do not meet a listing, Social Security will proceed to step 4 and determine whether you are able to perform your past work. The evaluator will review medical records and determine your residual functional capacity, which is your ability to perform certain activities required to perform work. They will determine certain factors such as how long you can stand within an 8-hour workday, or how frequently you are able to use your hands. This can be significant if you suffer from joint swelling and had a job that required constant use of your hands, such as an office job requiring typing all day. If you are not able to perform your past work, Social Security will determine whether there are other jobs you can perform with your limitations. If not, you will be found disabled.
The injury attorneys at LaBovick Law Group have extensive experience in handling rheumatoid arthritis disability cases and are ready to help you with your Social Security Disability case. Give us a call at (561) 625-8400 for a free case evaluation.