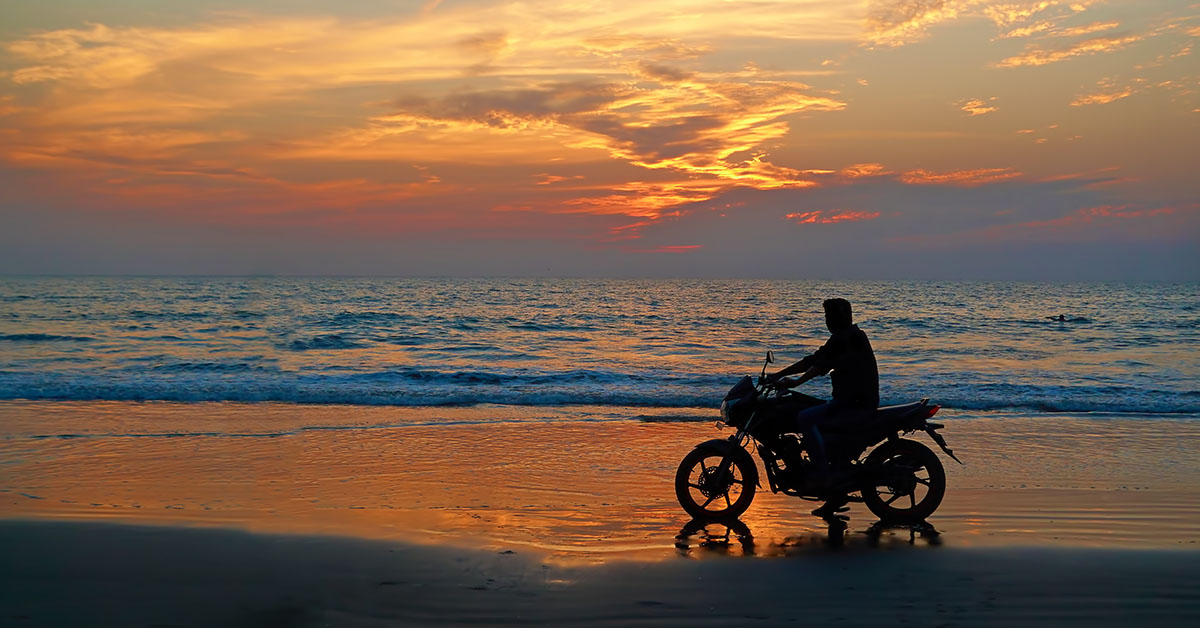 Motorcycles mean freedom, excitement, the thrill of the open road. There are nearly 583,000 registered motorcycle operators in the state of Florida – second in the country only to California. Major events like Daytona Bike Week bring tens of thousands more to enjoy the incomparable scenery and weather.
But there's a darker – more dangerous – side to riding a motorcycle. Florida leads the nation in a more grim statistic: according to the National Highway Traffic and Safety Administration, the Sunshine State is the most dangerous state for motorcyclists.
If you have been injured in a motorcycle accident or a family member has been killed, consult an experienced Florida personal injury attorney to ensure your rights are fully protected. The first step is arming yourself with information about motorcycle laws in the state.
Following the Law Motorcycle Licenses
It is important to comply with laws from the get-go, starting with licensing.
Every new rider – no matter what age – must pass the Basic Rider Course, offered by the Florida Rider Training Program.
There are two types of motorcycle licenses:

Motorcycle Endorsement on your driver's license: Licensed drivers can add a Motorcycle Endorsement when they show proof that they've passed the Basic Rider Course.
Motorcycle Only license: You must be at least 16 years of age and have a learner's permit for at least 12 months with no traffic convictions. If you don't have a driver's license, you must pass the vision/road signs/road rules test.
If you are 18 or older, learner permits are not required. You do have to pass the standard operator's license test and the Basic Riders Course.
Helmet Requirements
Do you have to wear a helmet while operating a motorcycle in Florida? Yes. All bikers are required to use a helmet that meets the Federal Motorcycle Vehicle Safety Standard 218. All helmets sold in the US must meet this standard.
TIP: When purchasing a helmet, be sure to double-check it meets requirements. Does it have a thick inner liner? Does it weigh at least three pounds? Is the chin strap sturdy and rivets solid? Are there any cracks or loose padding? Look for a DOT sticker on the outside and an ANSI or Snell sticker inside. And be sure there is a sticker containing manufacturing information, such as company name, model, size, month and year of manufacturer, and construction materials.
DOT stickers can be faked: some novelty helmets, for example, sell DOT stickers owners can put on. This is not valid, and it does not mean the helmet meets FMVSS 218. This is why you should take the time to look at the construction as we noted, especially weight, and buy from reputable vendors.
There's a "but" to the helmet law. You can get an exemption if you are:
21 years of age or older.
Carry an insurance policy with a minimum of $10,000 in medical benefits. (More on insurance in a moment.)
Insurance Options
Insurance can be a confusing area when it comes to motorcycles in Florida. Let's take a look.
All Florida drivers must have PIP (personal injury protection) insurance; this is a "no-fault" state, and PIP covers medical expenses and lost wages after an accident no matter who was at fault. But this applies to drivers of vehicles with four or more wheels – not two-wheeled ones.
You are not required to have insurance when you register your motorcycle. Here's another "but" – and why insurance is often a tricky area – you are financially responsible if are involved in a motorcycle crash. Insurance, or proof of financial responsibility, helps protect you.
There are a few options available:
Most common: You can purchase liability insurance from a carrier licensed in the state of Florida.
Less common: You can get a financial responsibility certificate by posting a surety bond with a state-licensed company. You must deposit cash or securities with the Department of Highway Safety and Motor Vehicles.
Uncommon: You can self-insure and get a certificate from the Bureau of Financial Responsibility. To do this, you have to provide evidence of a "net encumbered capital," or have money/securities that are owned by you but subject to a legal claim.
It seems strange but this is the reality: you don't have to have motorcycle insurance – until after you've been in an accident. Potential consequences include:
Suspension of driving privileges.
Suspension of your registration and tag.
The requirement to buy bodily injury/property damage coverage for three years.
Civil judgments.
It's worth the premium to protect yourself from potential financial disaster.
If You've Been in a Motorcycle Accident
The majority of motorcyclists are conscious drivers, fully aware of and compliant with the laws of the road. And most motorcycle accidents are caused by other drivers; they simply don't see the smaller, leaner profile bikes the same way they do larger, four-wheeled vehicles. This puts you at risk.
If you have been involved in a motorcycle accident, the first step is to get to a place of safety (e.g. to the side or shoulder of the road), inform law enforcement, and seek medical attention. Even if you do not feel injuries, that could be the adrenaline talking. Internal injuries often take time to manifest, and waiting for treatment could be dangerous.
Other important steps to take:
Remain calm. Don't argue or blame other parties, and certainly do not admit fault or apologize. This can be an automatic reaction but it can also impact your ability to pursue legal action effectively.
Remain on scene. Do not leave; wait for emergency responders. If you are able, document the scene with pictures. This can be a valuable source of information if you need to consult with a motorcycle accident lawyer.
Contact an attorney. Before you contact your insurance company? It's your call, but your insurer is interested in minimizing their expenses. If they can find a way to reduce your payout, they will. While you do need to inform your insurance company, it is helpful to consult a Florida personal injury attorney first and direct inquiries to them.

You know the rules of the road to keep yourself safe; know the rules of motorcycle laws to do the same with your rights. If you need help, contact Florida's premier personal injury team. We're here to represent your best interests – not those of your insurance company.