If you or one of your loved ones gets injured in a preventable accident in South Florida, the person or party who caused the accident may be financially responsible for your injuries and losses. A skilled West Palm Beach personal injury lawyer at LaBovick Law Group can help you seek justice in the form of financial compensation from the at-fault party. Our local law firm will work hard to ensure that you and your family have what you need to move forward. Call us today at (561) 623-3681.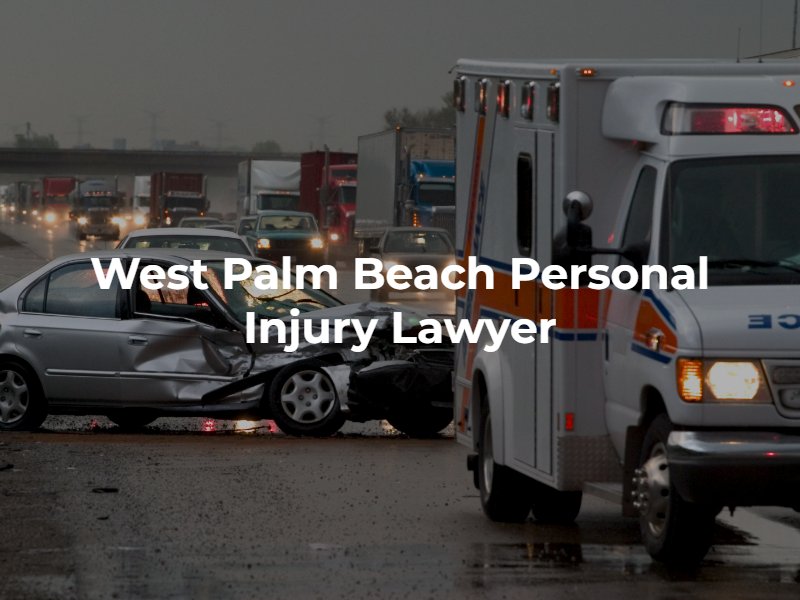 West Palm Beach Personal Injury Resources
Why Choose LaBovick Law Group To Handle Your West Palm Beach Injury Claim?
We understand that when you come to us, you're facing some of the most difficult times you and your family may ever deal with. You can rest assured that with our experienced West Palm Beach personal injury lawyers on your side, we will help you hold the wrongdoers accountable and obtain the results you need to move forward with peace of mind. At LaBovick Law Group,
Our West Palm Beach personal injury lawyers are deeply involved in our community and committed to fighting for justice for those injured by the carelessness of others.
We have recovered millions in compensation on behalf of injury victims in South Florida.
We offer free case evaluations and will answer all of your legal questions, including how much your injuries will end up costing you in the long run.
No Fees Unless We Win
LaBovick Law Group operates on a contingency fee basis, meaning we do not charge any attorney's fees unless we win the case. To learn more and discuss your legal options, request a free consultation online or call (561) 623-3681 today. 
Why You Should Hire a West Palm Beach Personal Injury Lawyer
When you or a loved one is injured in a serious accident through no fault of your own, it can feel like no one has your best interests at heart. You may feel uncertain about the future or your family's ability to recover physically, emotionally, and financially. The right personal injury attorney will be able to advise you as to what your rights are, what options may be available to you, and what steps you should take to seek the compensation you're entitled to by law. If this is your first time searching for a personal injury lawyer in West Palm Beach, you may not know what to expect from your legal representative. An attorney will have the experience, knowledge, and resources to help you go up against any at-fault party, known as the defendant. A personal injury lawyer can help get you access to the medical care and treatment you need after a serious accident, as well as take care of many difficult and complicated legal tasks on your behalf, such as:
Evaluating Your Case's Value
Properly assessing the value of your claim, including what you will need in the future, requires an attorney's extensive case experience and knowledge of the applicable state laws. Depending on your case's complexity, determining its worth may also call for hiring qualified experts (such as medical experts or forensic accountants) to testify to the extent of your injuries and how they will financially and physically impact you in the future.
Deal With Insurance Companies
Handling your injury claim without the help of a personal injury lawyer puts you at risk of being taken advantage of by an insurance company. Insurance companies and their claims adjusters may try to devalue your losses or deny your claim's validity. With a lawyer by your side fighting for maximum financial compensation for past and future damages and indicating the threat of a lawsuit, an insurer will have no choice but to treat you fairly. If the appropriate amount of compensation isn't extended, your lawyer can take the insurer to trial on your behalf. Hiring an attorney can make a positive difference in your legal experience and the overall outcome of your case. Your attorney can take care of legal matters while you and your family focus on recovery.
Do You Have a Personal Injury Case?
A personal injury case describes a legal process where the injured victim of an accident claims that another person or party caused the accident and is therefore legally responsible for related injuries and losses. The injured party, known as the plaintiff, makes a claim to damages against one or more defendants. Damages is the legal term for financial compensation available. Most personal injury cases in Florida revolve around the legal doctrine of negligence. A party is negligent if that party is careless, and this causes injury or death to others. To have grounds for a personal injury case in West Palm Beach, you must have proof of four main elements:
Duty of care. The duty to act in a reasonable manner.
Breach of duty. An act or omission that falls short of the duty of care.
Causation. The defendant's breach of duty was the proximate cause of the accident.
Damages. Injuries or losses suffered because of the accident.
Although there are some exceptions to the rule, you or your attorney will typically need to prove these four elements as more likely to be true than not true for a successful personal injury case. Your West Palm Beach personal injury law firm can help you prove that the defendant is at fault by gathering evidence such as photographs, accident reports, medical records, and witness testimony.
Contact the West Palm Beach personal injury lawyers at the LaBovick Law Group to receive your free consultation.
West Palm Beach Personal Injury Cases We Handle
When searching for the right West Palm Beach personal injury attorney for your case, you must look for a lawyer with on-the-job experience in your practice area. At LaBovick Law Group, we focus on personal injury law. Our West Palm Beach personal injury law firm has years of experience handling cases in the following practice areas:
Car Accidents
Car accidents are one of the leading causes of death and pedestrian injury in West Palm Beach. Car accident victims have the right to step outside of Florida's no-fault laws to seek damages from liable parties if they suffer severe injuries.
Medical Malpractice
When a doctor or other healthcare provider's mistake is the direct cause of your serious injuries, you may have grounds for a medical malpractice claim.
Construction Accidents
Although employees typically cannot sue employers, there may be a third party who is also liable for your construction accident injury.
Premises Liability Cases
Property owners and managers are required to keep their premises in a reasonably safe condition. When they fail in their duty, they can be held liable for any resulting injuries.
Truck Accidents
Truck accidents can be catastrophic, and the major trucking companies will hire lawyers immediately to reduce their liability. If you have been injured in a truck accident, you need an attorney with the experience and the resources to protect your rights.
Workers' Compensation Claims
We work with employees from a wide range of industries to pursue the workers' compensation benefits they are owed or to appeal a denial of an injury claim.
Social Security Disability Claims
Having a lawyer help with your social security disability case will significantly increase your chances of being approved.
Traumatic Brain Injuries
A traumatic brain injury (TBI) can permanently disrupt a victim and their family's quality of life. If you or a loved one has been diagnosed with a TBI after an accident of any kind, speak with a personal injury lawyer as soon as possible to learn more about your legal rights and your options for seeking full and fair recovery of your losses.
Motorcycle Accidents
We know that when an experienced, trained motorcyclist is involved in a collision, it is often because the driver of the car or other vehicle was careless. We will thoroughly and independently review your motorcycle accident case to ensure liability falls on the appropriate party.
Wrongful Death
Losing a loved one because of another person's mistake or negligence is devastating. Should you decide to pursue a wrongful death lawsuit, you need the effective and experienced legal representation of a West Palm Beach wrongful death attorney that you can trust. This list is not inclusive. If you believe you have been injured in a preventable accident caused by another's negligence, schedule a consultation, and we will evaluate your case for free. We have a history of success in the cases we accept. For example, we have won 100 percent of the workers' compensation cases we have accepted. We also win 100 percent of personal injury protection (PIP) cases. Our personal injury attorneys do their best to settle cases, meaning to resolve them without court trials. However, we try claims we believe will win.
How Do You Prove Negligence?
In any personal injury claim, you must identify the party responsible and prove their negligence to hold them accountable for your damages. In general, negligence is the failure to perform a specific action with proper care. The concept of negligence and comparative negligence can look different depending on the circumstances of your accident. As previously mentioned, in every case, negligence breaks down into the following four parts, all of which must be proven:
Duty of Care
This may be a contractual relationship that created a duty. For example, when you see a healthcare provider, they agree to use reasonable care when treating you. If they fail, and you are injured as a result, the physician may be liable. Evidence such as medical records will be enough to prove a duty of care was owed. However, in many cases, a duty arises out of physical proximity, such as in car accidents. All motorists are required to follow traffic laws and avoid collisions with other vehicles.
Breach of Duty
A breach of duty is the failure to use reasonable care, or in other words, failing to act as a reasonable person would have in a similar situation. A physician who fails to check a patient's medical history and prescribes a medication that the patient has a known allergy to has breached their duty of care. Proving a breach of duty may require physical evidence, such as medical records, prescription receipts, doctor notes, etc. A motorist who violates a traffic law, such as running a red light and causing an accident, has breached their duty of care. Evidence of their violation may include a police report, photos of the vehicles after the accident and of skid marks on the road, eyewitness testimony, any available surveillance footage, etc.
Causation
Causation means proving that your injuries would not have occurred if not for the at-fault party's behavior or lack of care. In many cases, this is straightforward. When another driver crashes into you, and you suffer a severe back fracture or brain injury, there is a clear connection between the at-fault driver's conduct. In other cases, causation is not as direct. For instance, if you discover you have cancer years after a doctor missed the diagnosis.
Damages
Evidence of damages typically involves collecting medical bills, property repair or replacement receipts, pay stubs to prove lost wages, and any other documentation of costs related to the personal injury accident. As long as you lost money from the accident, you have sufficient damages to bring a claim.
Florida's Pure Contributory Negligence Law
Under Florida's pure contributory negligence law, each party involved in an accident will be assigned a percentage of the fault, including you. The amount of your settlement or award will then be reduced by your share of the blame. For instance, if the other party is found 80% responsible and you are 20% at fault, you will only recover 80% of your award. If you settle for $100,000, you will receive $80,000. The higher your percentage of fault, the less compensation you will recover.
What Is the Statute of Limitations on Personal Injury Cases in Florida?
A statute of limitations is a legal deadline for filing a civil claim. All states have statutes of limitations that are meant to encourage timely filing for a more efficient legal process. The Florida statute of limitations on most personal injury cases is four years from the date of the accident. According to Florida law, if you do not discover your injuries immediately, the clock on your deadline does not start ticking until the date you discovered or should have discovered the injury. There are some exceptions to Florida's general statute of limitations, including:
If the victim is a minor, the victim has four years from the date of his or her 18th birthday to file.
If you are filing a medical malpractice lawsuit in Florida, you have two years from the date of discovery or four years (at the latest) from the date of the medical error.
If there is a criminal case pending against the same defendant, such as if you were injured by assault or battery, the courts may extend the deadline to four years from the date of the end of the criminal case.
If you are bringing a personal injury claim against the city or state government in Florida, you have three years from the underlying accident to file, rather than four.
It is crucial to file your personal injury claim within your statute of limitations in South Florida. If you file too late, the civil courts will most likely dismiss your claim without hearing it. Even if you are allowed to submit the claim, the defendant can use the expired statute of limitations as a defense against liability. Contact a personal injury attorney in West Palm Beach immediately after your accident to make sure you meet your statute of limitations and are able to receive the medical treatment you deserve.
How Much Does a West Palm Beach Personal Injury Lawyer Charge?
West Palm Beach personal injury lawyers typically represent injury clients on a contingency fee basis. This is an agreement that involves your attorney advancing any costs related to the case, and you are only responsible for legal fees if you win. If you do not win, you do not owe anything. For an attorney's contingency fee, they generally take between 33 to 40 percent of your awarded compensation as payment. This percentage can be lower or higher based on how your claim gets resolved. For instance, an attorney may take 33 percent if your case settles relatively quickly or 40 percent if they must try your case in court. Other personal injury attorneys take cases on a sliding scale fee that depends on the amount of compensation you recover. For example, 30 percent if you recover up to $10,000; 20 percent of a recovery over $10,000 and up to $50,000, etc. However, your contingency fee will ultimately depend on the lawyer, your type of case, the work involved, and the case's value. Be sure to discuss the exact terms of your agreement with your attorney before signing a contract.
Contact a West Palm Beach, FL Personal Injury Lawyer
If you or a loved one was recently injured in an accident in West Palm Beach, FL, please contact our local personal injury lawyers at LaBovick Law Group for assistance. We offer free consultations where you can tell your story and receive honest answers to your legal questions, free of charge. Our personal injury attorneys want to help you and your family during this difficult time. Our legal team can help you pursue justice and achieve the case outcome you deserve. Discuss your case with a compassionate and knowledgeable personal injury attorney in West Palm Beach today. Call (561) 623-3681 or contact us online to arrange your personal injury lawsuit case evaluation.