What is sarcoidosis? Sarcoidosis is a disease that involves the collection of inflammatory cells in different parts of your body. These cells, or granulomas, often form in the lungs, lymph nodes, eyes and skin, although any organ can be affected. This is a spontaneous disease with unknown causes. For some, the granulomas will disappear on their own. In other more severe cases, the condition can be quite disabling, especially if it is present in the lungs.
Sarcoidosis in the Lungs
The lungs are typically the first organ to develop sarcoidosis, with approximately 9 out of 10 cases beginning there. If you're wondering what is sarcoidosis and if you're suffering from the symptoms of sarcoidosis in your lungs, you may be experiencing shortness or breath or dyspnea, persistent cough, or even skin rashes. Other symptoms may include weight loss, fatigue, fever, and night sweats. Your medical provider will typically diagnosis this condition by reviewing your medical history, performing routine tests and a physical examination, and obtaining a chest x-ray. Another major test that may be performed is called a pulmonary function test. This test determines how well the lungs are taking in processing oxygen.
If you are suffering from sarcoidosis in your lungs, you are likely having a very difficult time breathing, with shortness of breath even during rest. You also are probably struggling to work, if you are even able to work at all. If sarcoidosis is affecting your ability to work, you should consider applying for Social Security Disability benefits. The Social Security Disability (SSD) program is meant to assist individuals both financially and medically while they seek treatment for their disabling conditions.
Applying for SSD Benefits
To apply for SSD, you may file an online application, call the local Social Security Administration (SSA) office, or complete a paper application. While applying for the program may appear easy, proving you are disabled is not. SSA has multiple statutory regulations it must follow when making a disability determination. It is highly recommended that if you are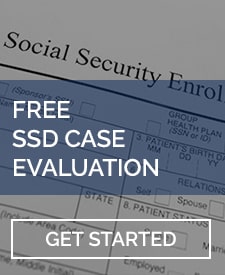 serious about obtaining disability benefits, you seek counsel from an experienced SSD benefits lawyer.
As mentioned, proving you are disabled is not an easy task. You must first show you are not working or earning substantial gainful activity. Next, you must show you suffer from a severe impairment causing more than a minimal effect upon your ability to work. This is done through medical evidence. Keep in mind, if you do not have medical evidence, it will be difficult to substantiate you suffer from a medical condition. Once severity is determined, SSA will then consider whether you meet one of its disability listings. In terms of sarcoidosis, SSA will consider whether you meet listing 3.02 for a chronic respiratory disorder. This listing requires medical evidence supporting an FEV or FVC of less than a certain amount, depending upon your age.
If you are not found to meet a listing, then SSA will next consider your residual functional capacity. What this means is SSA will determine what is the most you are physically capable of doing. Once they make that determination they will consider whether your limitations would preclude your past work or any other type of work in the national economy.
There are multiple steps to proving a disability claim. While this program may be easy to apply for, it certainly has a lot of regulations that need to be met to be found disabled. If you are suffering from sarcoidosis in your lungs, you should certainly consider applying for the program. At the LaBovick Law Group, we provide free consultations for all potential clients wishing to discuss their eligibility for disability. Please do not hesitate to call an SSD benefits lawyer to run your situation by us. We will advise whether this is the right program for you or not. Call us today at (561) 623-3681.