If you have suffered a slip and fall accident on another person's property in West Palm Beach, you may be entitled to pursue a premises liability claim for compensation. Our team at LaBovick Law Group can help you hold the negligent property owner or manager accountable. Contact our West Palm Beach personal injury lawyers today online or by calling (561) 623-3681 to schedule your free case evaluation.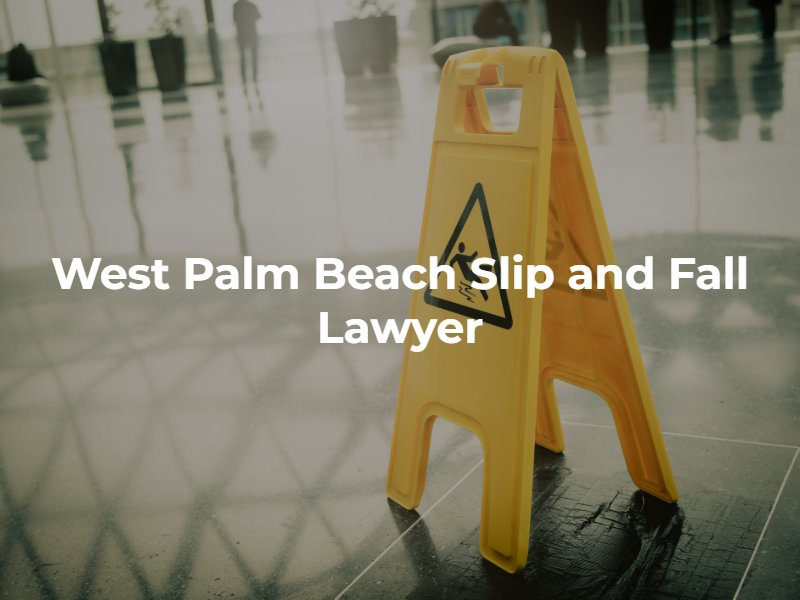 Why Choose LaBovick Law Group?
We have extensive experience fighting for slip and fall victims and obtaining the compensation they deserve.
We will never settle for less than maximum compensation and have a 98 percent success rate.
We offer dedicated and high-quality legal representation on a contingency fee basis, which means there are no legal fees unless we win.
West Palm Beach Slip and Fall Resources
Why You Need a West Palm Beach Slip and Fall Lawyer
Slip and fall accidents can cause severe injuries that force victims to take time away from work while medical bills are piling up—leaving them unsure of how their life will be impacted in the future. There is only one chance to secure enough compensation to completely cover any losses and future injury-related expenses. Lawyers who specifically handle slip and fall cases have experience dealing with insurance companies that commonly devalue or deny valid claims and will ensure you are not taken advantage of. They can help you by accurately estimating the value of your claim, thoroughly investigating your accident to collect supporting evidence, and skillfully negotiating a fair settlement with the insurance company on your behalf.
Common Slip and Fall Cases in West Palm Beach
Claims for slip and fall injuries often arise from accidents caused by:
Wet or slippery floors
Inaccurate stacking or securing of inventory
Damaged walkways or parking lots
Damaged floors or stairs
Staircases without handrails or uneven steps
Inadequate lighting
Potholes, pits, or other open holes
If evidence can be gathered to prove the property owner was aware of the hazard or should have been aware of it, you can recover compensation after a fall in any of these circumstances. Property owners typically have liability insurance to pay for your damages, such as medical bills, lost income, pain and suffering, etc. However, if the property owner does not have an insurance policy, you will have to sue them personally for reimbursement for your losses.
Injuries Due To a Slip and Fall in West Palm Beach
Individuals can sustain various types of injuries as a result of a slip and fall incident, ranging from relatively minor to severe. We strongly encourage any person involved in a slip and fall accident to seek medical care, even if they do not feel much pain at first. Please understand that the signs and symptoms of some slip and fall accident injuries may not show up until the days or hours after the incident occurs.
Some of the most common types of injuries that we help clients with after they sustain a slip and fall accident include the following:
Broken bones (particularly arms, wrists, hands, and fingers)
Sprained ankles or wrists
Damage to the knees
Hip fractures or dislocations
Muscle strains
Spinal cord damage
Nerve damage
Concussions
Lacerations
Bruises
Who Is Liable For Your Slip and Fall?
If you sustain a slip and fall accident on another person's property, then the property owner may hold liability for the incident if their careless or negligent actions led to the injuries. Typically, there will be four elements of negligence that need to be in place in these situations:
Duty. Every property owner owes a duty of care to those who have a right to be on their premises. This duty extends to ensuring that the premises are safe and free from known slip and fall hazards.
Breach. A property owner will have breached their duty of care if they knew or should have known about a hazardous situation that could cause harm to others and failed to remedy the situation or warn others about the danger.
Causation. It has to be shown that the breach of duty directly caused the slip and fall accident.
Damages. A plaintiff has to show that they sustained some sort of monetary loss as a result of the slip and fall incident (medical bills, property damage, pain and suffering).
How to Prove a Slip and Fall Claim
As a victim, you must establish the following elements of negligence to hold a property owner or manager accountable for a slip and fall:
The property owner or manager owed you a duty of care. In other words, you were invited or legally visited their property.
The owner or manager failed to keep their property reasonably safe by removing known hazards or ones they should have known about.
You suffered injuries as a direct result of the owner's negligence, and they would not have occurred otherwise.
Your injuries lead to financial losses.
Slip and fall cases are particularly challenging to prove because most of the evidence is first-hand accounts. It is critical that you seek medical care immediately to ensure your injuries are properly documented, report the accident to the manager or property owner, take photos of the area and any unsafe conditions that led to your injuries, and if there are witnesses, ask for their contact information.
What About Partial Fault for a Slip and Fall?
A common tactic used by insurance carriers and at-fault parties is to blame the injuries on the plaintiff. In other words, the other parties place the blame on the person who sustained the injury. However, Florida operates under what is called a "pure comparative negligence" system. This means that individuals can recover compensation even if they are up to 99% at fault for the incident. However, the total amount of compensation a person receives will be reduced based on their percentage of fault.
For an example of how this may look in a slip and fall case, suppose that there is an electrical cord running across the floor in a bank and that a customer trips on the cord and breaks their arm during normal business hours. If this person sustained $20,000 worth of medical bills, they should be able to recover compensation from the bank because of the bank's negligence in allowing the cord to run across the floor. However, suppose the plaintiff is found to be 10% at fault for the incident because they were looking at their phone at the time the incident occurred and did not see the electrical cord. In this case, the individual would receive $18,000 instead of the full $20,000.
Types of Compensation Available for These Claims
There may be various types of compensation available to slip and fall accident victims in West Palm Beach. At LaBovick Law Group, we work diligently to recover both economic and non-economic losses on behalf of our clients. This can include, but is not limited to, the following:
Complete coverage of all medical bills related to the slip and fall
Lost wages if a person cannot work while they recover
Any property damage sustained (computer, cell phone, clothing, etc.)
Loss of quality of life damages
Pain and suffering damages
How Much Compensation Can You Receive?
There is no set amount of money available to slip and fall accident victims in West Palm Beach. Rather, the specific facts and circumstances surrounding each particular situation will determine how much compensation a person receives if the other party is found liable. Some of the main factors that can affect compensation amounts include:
The severity of the injury and total medical bills
Whether or not a person can work while they recover and how long they are out of work
The value of any damaged property
The level of a person's pain and suffering
Insurance limitations of the at-fault party
Total assets of the at-fault party
Slip and fall accident claims could range anywhere from a few thousand dollars to tens of thousands of dollars. It is crucial for an attorney to get involved in these cases. A lawyer will gather all the evidence needed to determine total expenses and work with trusted medical and financial experts who can help properly calculate all losses.
Steps to Take After a Slip and Fall Accident in West Palm Beach
There are various steps that individuals can take to help ensure that they recover total compensation for their losses. As we go through these steps, we understand that the aftermath of a slip and fall injury can be chaotic, and not every step will necessarily happen in this exact order.
Seek medical care. It is crucial for all slip and fall accident victims to seek medical care as soon as possible, even if they do not feel much pain right after the incident occurs. The signs and symptoms of some slip and fall accident injuries do not appear until the hours or even days following the injury. By seeking immediate medical care, an individual is helping to ensure their well-being while also establishing a direct link between the slip and fall incident and the injuries.
Report the injury. It is crucial to make sure that the property or business owner knows about the injury. This means that you should report the incident to an employee or property manager as soon as you can. Most properties have an incident report process, and you should ask for a copy of this report.
Gather evidence. If it is possible to do so at the scene, you should gather as much evidence as possible. This can include using a phone or another type of camera to take photographs of the cause of the slip and fall, any visible injuries, as well as the overall area where the incident occurred. If there were any eyewitnesses to the slip and fall incident, make sure to get their names and contact information so they can be contacted to give their version of events to insurance carriers or a personal injury jury.
Contact an attorney. You should reach out to a slip and fall accident attorney in San Diego as soon as possible. An attorney can handle every aspect of these claims and will ensure that you are properly cared for throughout the entire process.
Continue all medical treatment. It is crucial that you continue all medical treatment until your doctor says you have reached maximum medical improvement. If you discontinue care, this could be taken as a side by the insurance carriers that you are not as injured as previously claimed.
Time Limit to File a Slip and Fall Claim in West Palm Beach
It is important for slip and fall injury victims in West Palm Beach to file their claims as soon as possible. Overall, the Florida personal injury statute of limitation is four years from the date an injury occurs. This means that injury victims have a four-year time frame to file a lawsuit against the alleged negligent party in order to recover compensation. Failing to file a claim within this time frame will likely result in the victim being unable to recover compensation.
However, please do not wait this long to file your injury claim. Insurance carriers involved in these situations typically require that claims be filed quickly, and missing an insurance deadline may mean that you have to go through the entire civil personal injury lawsuit process to recover compensation for your losses. The sooner you file, the quicker an attorney can get involved and gather the evidence needed to prove liability. Claims filed months or years after an incident occurs will be more difficult to prove because evidence tends to disappear relatively quickly after an accident.
We Will Fight For You
If you or a loved one has suffered a severe injury in a preventable slip and fall accident, contact the LaBovick Law Group at (561) 623-3681 to schedule a free consultation.