A motorcycle accident can cause devastating injuries that permanently affect the victim. At LaBovick Law Group, our West Palm Beach motorcycle accident lawyers represent those injured by negligence. We can help you go up against someone who carelessly or recklessly caused your crash. Contact us today to begin your case with a free initial consultation.
Why Trust LaBovick Law Group With Your Motorcycle Accident Claim?
We are committed to obtaining top results for our clients. We have a 98 percent success rate.
Our lawyers know how to maximize clients' outcomes based on the true values of their injuries.
We have the resources and personnel to succeed in any case against any defendant.
We are founded on principles of compassion, innovation, and hard work.
Your West Palm Beach personal injury attorney will work on a contingency fee basis, meaning you won't pay any fees unless they win.
West Palm Beach Motorcycle Accident Resources
Common Causes of Motorcycle Accidents in South Florida
Most motorcycle accidents are preventable. They occur when one or more parties are negligent. Identifying the cause of your motorcycle accident is one of the many things an attorney can do for you. The cause of your crash can identify the person or party who is financially responsible if you have grounds for a lawsuit. In personal injury law, someone is negligent if they fail to take a reasonable amount of care, and this causes injury or harm to someone else.
Our West Palm Beach motorcycle accident lawyers can determine who or what caused your motorcycle accident by revisiting the scene, hiring crash reconstruction experts, speaking to witnesses, and reviewing the police report.
Common causes of motorcycle accidents in West Palm Beach, Florida include:
Distracted driving or driver inattention: A driver that is distracted and unable to dedicate their full attention to driving is a danger to everyone else on the road.
Texting and driving: Considered the most dangerous type of distracted driving because it takes a driver's hands, mind, and eyes off the road.
Failing to yield the right-of-way: These accidents often occur at intersections due to confusion on who has the right of way or misjudging a motorcycle's distance.
Illegal turns: Drivers commonly make improper or illegal turns that put them directly into the path of an oncoming vehicle or motorcycle.
Speeding: Excessive speed cuts down a driver's time and ability to make quick, safe decisions and keep people out of harm's way.
Tailgating: When a vehicle or motorcycle follows too closely behind another driver, it increases the likelihood of an accident when the front vehicle suddenly brakes.
Lane Splitting: Lane splitting is when a motorcycle rides in between two lanes of traffic and is illegal in Florida. There are many possible accident scenarios with lane-splitting because drivers are not looking for motorcycles in this area, and lanes may not be wide enough for vehicles to travel side by side safely.
Operating Under the Influence: driving under the influence of alcohol or drugs delays brain functions and impairs hand-eye coordination, as well as how information is processed, dramatically increasing the risk of causing an accident.
Reckless Driving or Road Rage: Reckless driving, such as unsafe lane changes, failure to obey traffic signals, failure to signal, failure to yield right of way, or road rage, etc., can easily cause a preventable motorcycle accident.
Roadway Defects: Motorcycle accidents can be caused by roadway defects, such as potholes, blind curves, lack of lights, narrowed lanes from construction zones, or improper warning signage.
Defective Motorcycle Parts: Another common cause of accidents that is not a result of driver or rider negligence is defective motorcycle parts. A number of defects can lead to a crash, such as a brake failure, faulty tires, fuel system defects, a manufacturing defect (e.g., a part missing, installed incorrectly, or made of poor quality materials), or if a bike's design is inherently dangerous.
Florida's Comparative Negligence Rule
Florida follows a pure comparative negligence system in motorcycle accident cases. Under this law, any party who contributes to an accident or injury can be liable for damages. If a court awards a victim compensation, the portion they receive will be based on their percentage of fault.
For example, if you are awarded $100,000 but found 40% at fault because you were speeding through a traffic light when a driver turned left in front of you, you will only receive 60% of the award or $60,000. Because of this law, at-fault parties and their insurance companies often attempt to reduce their liability by placing the majority of the blame on the victim. An experienced motorcycle accident lawyer is experienced in these tactics and can ensure you are treated fairly.

What to Do After a Motorcycle Crash?
After a motorcycle crash, you need to know what to do in order to protect yourself, medically and legally.
Call 9-1-1
Call 911 as soon as you can to report the accident and request medical assistance. Emergency responders will arrive to treat anyone involved and transport you to the hospital if necessary. A police officer will also create an accident report detailing the collision, noting how they believe the crash occurred and which parties they believe to be at fault. Ultimately, this report can be critical when it comes time to file an accident claim. Be sure to ask the officer how you can obtain a copy of the report.
Photograph the Accident
If you are not transported to the hospital, remain at the scene and take photographs of:
The scene as a whole;
The positions of all vehicles involved and their damage;
Any property damage caused in the surrounding area;
Any debris or markings on the road, such as skid marks;
The road conditions and any hazards, such as potholes or uneven lanes
Street signs and traffic signals
Your injuries
Speak to Witnesses
If anyone witnessed the accident, ask for their name and contact information. Check if they are willing to make a recorded statement, which you can take on your phone, or ask them to write down their version of the events while it is fresh in their minds.
Seek Medical Treatment
Go visit a doctor as soon as possible, even if you don't believe you are injured. Some severe injuries, including traumatic brain injuries, can have delayed symptoms that can present themselves hours or even days later. Seeking treatment immediately is not only the best choice for your health but will provide documentation to prove your injuries and to what extent. If you wait to seek medical help, the delay can allow an insurance company to argue that your injuries were not a result of the motorcycle accident or not as severe as you claim.
Speak To a West Palm Beach Motorcycle Accident Lawyer
Obtaining the compensation you deserve from an insurance company can be difficult on your own. A personal injury protection (PIP) attorney can help you preserve evidence that may be vital to your claim and negotiate a fair settlement or represent you in court.
Steps to a Motorcycle Accident Claim
Documentation
Your legal team will collect information relevant to your claims like medical records, medical bills, and insurance policy information.
Investigation
Your legal team, including the attorney, will review the information that was gathered from the prior step and assess it to gather the necessary evidence. They may review include (but are not limited to) police records, traffic camera footage, dashcam footage, and security camera footage. This will help to build your case.
Negotiation
Your attorney will aggressively fight for your defense so you can get the compensation you need before going to court.
Trial
If settlement negotiations are unfavorable, your attorney will prepare to go to trial and present your case in the strongest manner.
Average Payout for a Motorcycle Accident
There is no average payout for a motorcycle accident case. Each case is unique, with insurance companies and juries deciding financial outcomes on a case-by-case basis. Some injured victims receive $10,000 or less for relatively minor injuries & property damage, while others receive $1 million or more for catastrophic injuries.
Many different factors can affect how much your claim is worth, including:
The severity of your injuries
The costs of your medical expenses
Whether you have permanent disability or disfigurement
Whether your injuries interfere with work
The number of defendants in your case
The amount of insurance available
You may be eligible for reimbursement for your medical bills, property damage, lost wages, pain and suffering, and more. A motorcycle accident attorney can perform an in-depth evaluation of the value of your motorcycle accident case.
Discuss Your Case for Free With a Motorcycle Accident Lawyer in West Palm Beach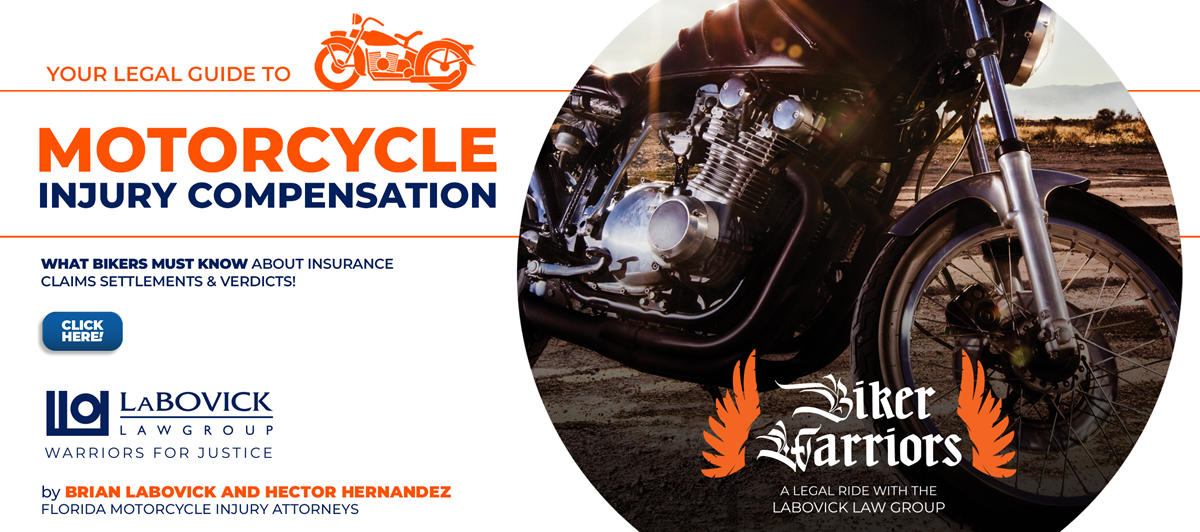 We pursue justice on behalf of injured motorcycle accident victims in West Palm Beach and throughout South Florida. Learn more today during a free consultation with one of our local motorcycle accident lawyers. Initial case reviews are free and confidential.
Call (561) 623-3681 or contact us online today.