A brain injury is one of the most serious injuries you can suffer in an accident in South Florida. If you or a loved one has a brain injury as a result of someone else's carelessness or recklessness, you may be eligible for financial compensation for your past and future losses. Discuss your case with a qualified West Palm Beach brain injury attorney and learn how we can help during a free consultation at LaBovick Law Group.
Why Choose LaBovick Law Group for Your West Palm Beach Brain Injury Claim?
At LaBovick Law Group, our team of Florida trial attorneys is passionate about serving those who have been wronged due to the negligence of others.
For every case that we take, we make it our mission to recover maximum compensation on behalf of our clients.
We have recovered significant multimillion-dollar settlements on behalf of injury victims in West Palm Beach and throughout Florida.
We focus on providing a client-centered approach to every case we take, which means we take the time to listen to your needs as we formulate the best case strategy moving forward.
West Palm Beach Brain Injury Resources
How Can a West Palm Beach Brain Injury Lawyer Help?
Brain injuries often cause long-term symptoms and life-changing health complications. For this reason, it is important to hire an attorney to represent you. Otherwise, you may accept less than you deserve from an insurance company. Your lawyer will use aggressive legal tactics to negotiate for maximum financial compensation on your behalf.
Although no amount of money can make up for a brain injury, a successful case can make sure you have what you need to take care of your family and get justice for you or a loved one. A West Palm Beach brain injury attorney can also handle the many aspects of your case while you focus on recovery. This includes investigating your accident, gathering evidence, and proving your case against one or more parties.
What Are the Most Common Causes of Traumatic Brain Injuries?
A traumatic brain injury is caused by trauma to the head or skull, such as a blow or jolt to the head in an accident. An acquired brain injury, on the other hand, is the result of the loss of blood or oxygen to the brain. Both types of brain injuries can cause brain cell damage and death, leading to life-altering and often permanent brain damage.
Some of the most common accidents that cause brain injuries in West Palm Beach are:
Bicycle and motorcycle accidents
Boating accidents
Fall accidents
Workplace accidents
Struck-by objects or equipment
Sports incidents
Diving accidents
Medical malpractice
Acts of violence
Most brain injuries are preventable. They occur when one or more parties are negligent. The definition of negligence in personal injury law is a careless action or failure to act that falls short of the accepted level of care. If someone was negligent and caused your accident, the law may entitle you to financial compensation from that person. Learn more by speaking with a West Palm Beach personal injury lawyer experienced in handling traumatic brain injury cases.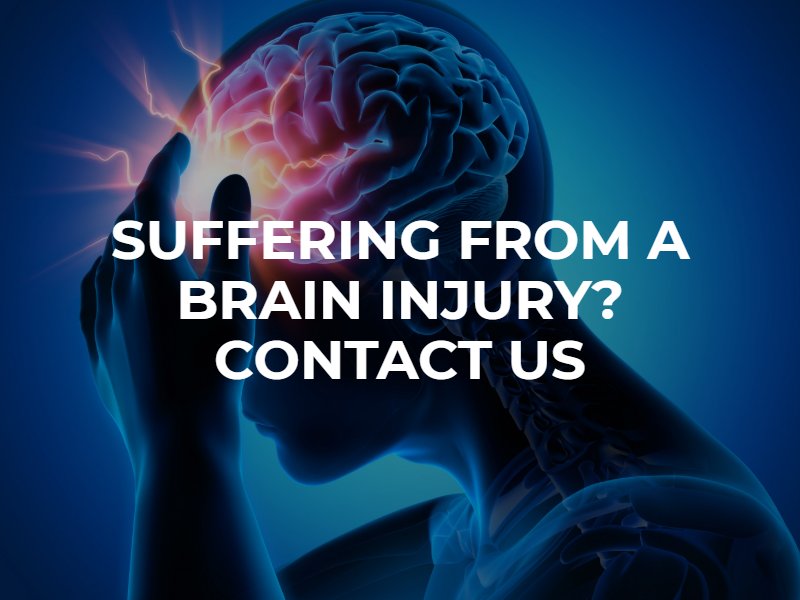 How Do You Prove a Brain Injury Case?
Obtaining justice and monetary recovery for a brain injury in Florida takes you or your West Palm Beach brain injury attorney proving that one or more parties – known as the defendant(s) – caused your injury. This takes clear and convincing evidence that demonstrates four elements:
Duty of care. The defendant was under a legal obligation to take reasonable care in preventing your accident or injury.
Breach of duty. The defendant did something (or failed to do something) that went against the duty of care.
Causation. The defendant's negligence caused or significantly contributed to you suffering the brain injury.
Damages. You have proof that you suffered damages (losses) in the accident, such as X-rays proving your brain injury and receipts for your medical bills.
The burden of proof for a brain injury claim in Florida is a preponderance of the evidence. This is enough evidence to show that the defendant more likely than not caused your injury.
Compensation for Brain Injury Victims in Florida
If your West Palm Beach brain injury lawyer succeeds in proving your brain injury case, you can recover financial compensation for many past and future losses. These may include:
Medical bills
Surgeries, physical therapy, and rehabilitation
Medications and medical devices
Lost wages and lost earning capacity
Pain and suffering
Emotional distress
Lost quality of life
Punitive damages
The value of your brain injury claim will depend on many factors, including the severity of the brain injury and its foreseeable impact on your future. Find out how much your case is worth during a free consultation with a brain injury lawyer.
Understanding the Long-Term Costs of a Brain Injury
Unlike other types of injuries where an individual will likely make a full recovery, brain injuries must be handled differently. It is not uncommon for brain injury victims to suffer from significant long-term signs and symptoms that affect their day-to-day lives. These long-term signs and symptoms can affect not only the injury victim, but also their family members. If a person suffers from a physical or cognitive disability as a result of the brain injury, this can affect their quality of life as well as their ability to work.
When working to consider all costs of a brain injury, it is important to look at how much medical care a person will need moving forward. This is not always predictable because there is no way to know how a person will respond to current treatment and what type of treatment they will need in the future because of the brain injury.
Additionally, calculating lost income is crucial. If an individual can no longer work or can only work in a limited capacity because of their brain injury, it is important for them and their family to receive compensation for these lost wages.
What if I was Partially Responsible for the Brain Injury?
One tactic commonly used by insurance carriers and at-fault parties to reduce how much money they pay is to blame the injury victim for causing their own injuries. Even though this could play a role in lowering the compensation amount, it is crucial to understand that Florida operates under what is called a "pure comparative negligence" system for most personal injury claims.
What this means is that an individual can still recover compensation regardless of how much fault they had for the incident, even up to 99% of the fault. However, the total amount of compensation an individual receives will be reduced based on their percentage of fault. For example, if an individual slip and falls on a recently mopped floor in a department store and sustains a brain injury, and there were no "wet floor" signs present, they may be able to file a personal injury lawsuit against the store to recover compensation. Let us suppose, for this scenario, the individual incurs $100,000 worth of medical bills and other expenses.
However, what happens if the department store says that the injury victim is partially responsible for causing their injury because they were looking at their cell phone screen and taking a selfie when the incident occurred, and they would otherwise have seen the wet floor?
For the purposes of this scenario, let us assume that a jury assigns 30% of the fault to the injury victim. In this situation, the injury victim will receive $70,000 instead of the full $100,000 to account for their percentage of fault.
Affording a Brain Injury Lawyer in West Palm Beach
If you are worried about how you will be able to afford an attorney to help with your brain injury or your loved one's brain injury, you can count on the team at LaBovick Law Group. We handle West Palm Beach brain injury cases on a contingency fee basis. This means that our clients will not pay any legal fees until after we secure the compensation they are entitled to. There will be no upfront or out-of-pocket costs related to the case. If we do not win, you will not pay us a dime in legal fees.
Steps to Take After a Brain Injury Occurs
If you or somebody you love sustains a brain injury caused by the actions of another individual or entity, there are steps that you can take immediately to increase your chances of recovering and securing any compensation you may be entitled to. We understand that the aftermath of a brain injury in Florida can be chaotic, and it may not be possible to take all of these steps in this exact order. However, we do recommend that you take as many of these steps as possible so that you can get your potential injury claim moving in the right direction.
Seek medical treatment immediately. Anytime you suspect a brain injury has occurred, whether to you or someone that you love, you need to make sure that the victim seeks medical treatment as soon as possible. The signs and symptoms of some brain injuries do not appear immediately, so it is crucial to go to the doctor anytime a person sustains a bump or blows to the head or body. Delayed medical care could lead to irreversible brain damage. By seeking immediate medical care, you are establishing a solid link between the incident and any possible brain injury.
Report the incident. You need to report the incident to an authority. This authority will vary depending on the situation at hand. For example, if a brain injury occurs as a result of a vehicle accident, the police need to be notified so that they can come and fill out an accident report and investigate the incident. Workplace injuries need to be reported to a supervisor or the employer. Brain injuries that occur on another person's property should be reported to the property owner or operator.
Gather the evidence available. If it is safe to do so at the scene of the incident, it may be possible to gather evidence. This can include but is not limited to, photographs of causes of the injury, video surveillance, eyewitness contact information, and more. We understand that it may not be possible to gather much evidence right after an injury occurs, particularly if you have to seek immediate medical care. However, if you have somebody that you trust, let them gather as much evidence as they can.
Contact an attorney. It is important to speak to a skilled brain injury lawyer in West Palm Beach as soon as possible. The sooner an attorney can get involved, the quicker they can take over the case and handle every aspect of the claim on your behalf. This will include using their resources to conduct their own investigation, obtain and preserve evidence, and speak to eyewitnesses. Additionally, an attorney can begin the claims process with insurance carriers.
Reach out to your insurance. Depending on the situation, you may need to report the incident to your insurance carrier. Insurance carriers have very strict reporting deadlines, and failing to file a claim promptly could result in the inability to recover compensation. The initial insurance carrier report does not need to be detailed – the carrier just needs to know the incident occurred and that you are seeking medical care. Refer all questions from insurance carriers, whether they are your carrier or another party's carrier, to your attorney.
Document everything. It is important to keep records of everything in the aftermath of a brain injury. This includes keeping track of all medical bills and treatment that occurs. This also includes keeping track of lost wages and household out-of-pocket expenses. We also recommend that injury victims keep a daily journal that keeps track of their treatment as well as their levels of pain and suffering. These journals will be beneficial when it comes to showing insurance carriers or a personal injury jury how the injury has affected the victim.
Continue all medical treatment. It is crucial for injury victims to continue all medical treatment until after they have reached what their doctor considers a maximum medical improvement or the point where further medical care will likely not change the prognosis. If a person discontinues medical treatment before a doctor recommends doing so, this could jeopardize the injury claim with the insurance carriers or in the eyes of a personal injury jury.
Contact a Brain Injury Attorney in West Palm Beach, FL Today
Find out whether you or a loved one has grounds for a brain injury claim during a free consultation with one of our attorneys. The West Palm Beach brain injury lawyers at LaBovick Law Group can listen to your story and let you know if your case has merit. If so, we can help you take the steps to file a claim and hold the responsible party accountable. Contact us today for a free case review at no obligation to hire us.