Florida is all but tailor-made for motorcyclists. With great cityscapes and even better-hidden gems to get out and explore, there is no shortage of fantastic sights and opportunities for adventure. Scores of riders converge on the Sunshine State for major events, like Daytona Bike Week, and thousands of residents rely on two wheels for their daily commutes. Understanding motorcycle laws in Florida is critical to ensure compliance – and safety. Contact a West Palm Beach Motorcycle Accident Lawyer today.
What You Need to Know About Florida Motorcycle Insurance Laws
We'll start with one of the more confusing sets of regulations: Florida motorcycle insurance laws. Do you need insurance? In most states, motorcycle insurance is comparable to four-wheeled insurance regulations, and the answer is "Yes!" Not in the Sunshine State. Florida is a no-fault state: drivers need to carry personal injury protection (PIP), which covers medical bills.
Motorcyclists cannot get PIP, nor are they required to carry insurance when registering their bikes. This can leave you with quite a dilemma if you are in an accident, though. If found at fault, you will be held financially responsible. If you do not have liability coverage, you could have your driving privileges and/or registration and tag suspended or face civil judgments.
Without insurance, that is a burden that most of us cannot afford.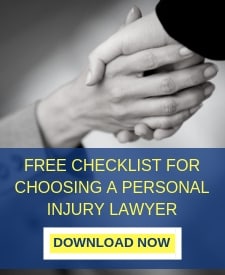 We strongly recommend purchasing liability insurance from a licensed carrier. This is the easiest, most convenient way to ensure you are covered if you are involved in an accident – whether you are at fault or not. Aim for at least $10,000 for one person's bodily injury and $10,000 in property damage, and more if you can.
Do You Need a Motorcycle Helmet in Florida?
Yes… but. In another Floridian twist, the law requires that you wear helmets and protective eye gear unless you are over the age of 21 and carry an insurance policy with at least $10,000 in medical benefits. In this case, you do not need to wear a helmet, though eye protection is still mandatory.
Riders under the age of 21 must always wear a helmet and eye protection.
Lane Splitting
Every state with the exception of California prohibits lane splitting. With this maneuver, riders move between lanes or rows of traffic. In some cases, lane splitting can be safer as it reduces the risk that motorcyclists will be rear-ended by drivers who speed, are distracted, or fail to pay attention to bikers. Even so, it is illegal in Florida.
Lane sharing is different: here, two (but not more) motorcyclists can ride side by side in the same lane. This is permitted in the Sunshine State, as in most other states.
Motorcycle Handlebars
We've all seen "ape hangers" out on the road. With this style of handlebars, the rider has to reach up to reach the grips. In Florida, your handlebars cannot be higher than your shoulders when you are seated. This varies greatly across the country, so if you're coming from elsewhere or planning to head out of state, make sure you know the rules.
Other motorcycle laws in Florida of which you need to be aware:
License. If you have an operator's license, you can get a motorcycle endorsement. If you do not, you may be eligible for a motorcycle-only license. All riders born on or after July 1, 2008, must pass the Basic Rider Course offered by the Florida Rider Training Program, and all new riders must pass this course, regardless of age.
Headlights. You must run daytime headlights.
Mirrors/turn signals. Motorcyclists are required to have at least one rearview mirror and functioning turn signals.
Passengers. If you take a passenger on your travels, you must have a seat for them or your seat must be built for two. The passenger also needs footrests.
The majority of motorcyclists are law-abiding and practice extreme caution when out on the road. They have to. When in an accident, the chances of being more severely injured or killed are much higher for riders as they lack the structural support a car or truck offers.
Following the laws of the road is critical to your safety, but what if you are not at fault in an accident?.
If you have been involved in an accident, call for emergency services immediately and seek medical attention. Remember, adrenaline may mask symptoms, so it's better to be safe than sorry when it comes to getting checked out.
Try to document the scene and road conditions as best you can with video and/or photographs. Do not admit fault; instead, contact an experienced motorcycle accident attorney. They can help you navigate the next steps. If another driver is at fault, they will pursue justice on your behalf. You should not be left with tremendous financial, medical, and legal burdens on your shoulders alone.
Being aware of and understanding motorcycle laws in Florida is essential. If you need legal assistance, please don't hesitate to contact LaBovick Law Group. We are here for you.
Ride safe!