Being involved in a car accident is traumatic: you may have been on your way to work, picking up your child at soccer practice, coming home from an evening out. And suddenly, your life changes. The physical injuries are difficult enough to deal with: contending with other factors, such as missing work, having to repair or replace your car, paying medical bills, and worrying how you'll make ends meet is often just as, or even more, stressful. Good car accident lawyers can make this trying time more manageable.
The keyword is "good." When car accident and injury lawyers are skilled at their jobs, they will help you navigate the complex legal terrain and give you the best chances of receiving fair and appropriate compensation. So, what should you look for in a personal injury attorney?
Searching for Good Car Accident Lawyers? They'll Have These Four Characteristics:
Unfortunately, Florida ranks #3 in fatal car accidents, and tens of thousands more are injured every year. As such, car accident and injury lawyers are very easy to find; many practices in this area. But again, the keyword is "good." But go beyond that: demand "great."
Experience
When you're living your life, feeling good, and are healthy, you see your regular general practitioner for a checkup once a year. But when you have, for example, an issue with your heart, you visit a specialist. They have in-depth knowledge and expertise with your particular condition that goes beyond the scope of your GP. In other words, hearts are what they do.
It is the same with attorneys. When you are in a car accident, you need a lawyer that specializes in this particular area of the law. Their experience will help you navigate the complex ins and outs that go along with your case.
When you are searching for car accident and injury lawyers, ask about specific outcomes. It is also helpful to ask if they have personal injury experience as well, as this relates to your case.
Passion – and Compassion
Your lawyer needs to be skilled in the legal and technical aspects of your case, to be sure. They need to have extensive knowledge of the law and the ability to build a compelling case. But they also need to care about your case. They should treat you as a person, with complex and pressing needs, not just a case number. And certainly not just a potential payday.
Are they respectful? Do they listen when you discuss your situation? Do they understand your issues? Are they approachable? Are you comfortable working with them? Are they engaged in the process? Will they fight for you? Again, legal acumen is essential – but so is an effective "deskside" or "courtside" manner.
Honesty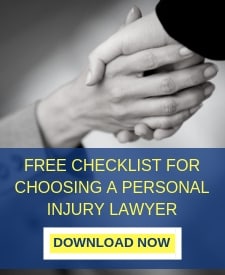 Lawyer jokes notwithstanding, honesty and trust at the heart of every attorney-client relationship. If, for example, a lawyer guarantees a certain result, consider it a red flag. No one can promise a particular outcome. What they can do is explain possible, and probable, outcomes given their experience and the various laws and factors that are pertinent to your case.
Availability
If an attorney has all of these traits but not the time to adequately handle your case, then it's a no-go. Find someone who also has the availability to give you the attention you deserve. Your lawyer should have the time to discuss your case, answer your phone calls, respond to messages, and, of course, work to develop a compelling case.
Good car accident lawyers share these qualities and work to ensure that this trying time in your life is as manageable as possible. If you have been injured as the result of another party's negligence, recklessness, or carelessness, please do not hesitate to contact the lawyers at the LaBovick Law Group today.