If you recently lost a loved one in an accident, the West Palm Beach wrongful death attorneys at LaBovick Law Group want to extend their deepest condolences. We know what it is like to lose a family member, and we understand that while a lawsuit might be the last thing on your mind, your family members may be entitled to financial compensation. Our local West Palm Beach personal injury law firm can help you and your family get through this difficult time with the justice your loved one deserves. Our law firm invites you to contact us for a free, zero-obligation consultation with one of our compassionate wrongful death lawyers about your specific wrongful death lawsuit.
What Is Wrongful Death?
Wrongful death is a death caused by the negligence or wrongful act of another party. Negligence describes an act of carelessness that injures someone else. According to Florida Statutes Section 768.19, a party may have grounds to file a wrongful death claim if the negligence, wrongful act, default, or breach of contract or warranty of any person caused the death. If death had not ensued and the at-fault party (defendant) would be liable in damages (financial compensation) for the victim's injury, the defendant is liable for wrongful death under state law. While nothing can ever make up for losing a family member and loved one, filing a wrongful death claim can bring your family justice, closure, peace, and financial security. If you have further questions about what constitutes wrongful death in Florida, speak with a West Palm Beach personal injury attorney experienced in wrongful death cases.
How Can a West Palm Beach Wrongful Death Lawyer Help?
A West Palm Beach wrongful death attorney can help you and your family with complicated legal processes, allowing you to focus on grieving and healing. Hiring a lawyer in West Palm Beach takes the burden of legal action off of your shoulders. Your experienced West Palm Beach wrongful death attorney will take care of everything on your behalf, fighting for justice and maximum financial compensation for the loss of your family members and loved one's life. A personal injury lawyer can build your case by investigating the accident, gathering evidence, dealing with insurance companies, and hiring experts to testify for your wrongful death case.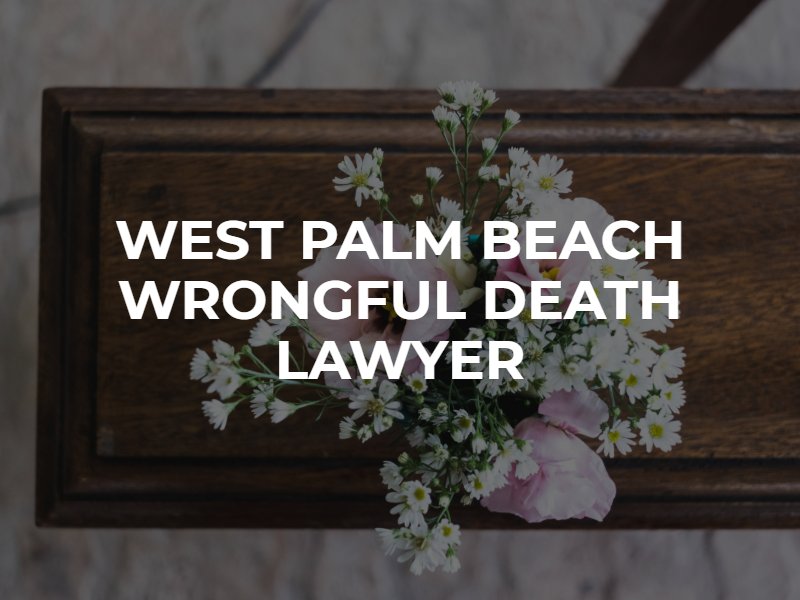 West Palm Beach Wrongful Death Resources
Types of West Palm Beach Wrongful Death Cases
Some of the most common types of West Palm Beach wrongful death cases include:
Medical Malpractice
When a medical provider or healthcare professional such as a doctor, nurse, hospital, etc., is negligent or commits any form of wrongdoing, medical malpractice may have occurred. If that negligence or misconduct results in a patient's death, there is likely a cause of action for a wrongful death lawsuit to be brought against the healthcare provider or their employer or both.
Common examples of medical malpractice situations that lead to the death of a patient include failure to diagnose or misdiagnosis, anesthesia errors, surgical errors, prescription drug errors, and birth injuries.
Auto Accidents
Accidents involving cars, trucks, bicycles, motorcycles, bicyclists, etc., happen daily and can easily result in accidental or wrongful death. There are a number of reasons why the accident rates are so high. People are distracted by their cell phones and other devices while behind the wheel, drive while intoxicated, and speed or drive recklessly through traffic. Other times, collisions are caused by road hazards, such as potholes or large objects that fell off other vehicles or construction zones.
Construction or Workplace Accidents
Construction is an inherently dangerous occupation, and many wrongful death claims arise from accidents on construction sites. However, fatal accidents can happen at any place of work. If a loved one is killed from a work-related accident or illness, the family may have a wrongful death case against the deceased's employer or another third party that was involved. Employers are required to keep the workplace reasonably safe for workers. If their negligence led to a hazardous condition that contributed to a worker's death, they might be liable.
Defective Products
If a product sold to consumers is defective and causes a fatality, the product's manufacturer or another party involved in its distribution can be liable. A product can be defective due to its design, assembly/manufacture, or how it is marketed. A design defect basically means the entire product was designed poorly or not adequately tested. A manufacturing defect means there was an error or dangerous aspect introduced when the product was created. A marketing defect often applies when there is a lack of instructions or a failure to warn consumers of potential risks. Examples of products that are often involved in defective product wrongful death lawsuits include:
Vehicles
Faulty airbags
Medical supplies or implants
Prescription drugs
Tools and machinery
Contaminated food
Baby products and toys
Household appliances
Beauty supplies and cosmetics
Chemicals and cleaning products
Intentional Harm
When a victim is killed by a criminal act, such as assault, murder, armed robbery, or another type of physical attack, a wrongful death claim can be filed for intentional harm. However, a wrongful death case for intentional harm is a civil action rather than a criminal case. Penalties if found guilty of wrongful death are typically in the form of financial compensation to the estate, as opposed to a prison sentence or death penalty.
What Are the Most Common Causes of Wrongful Death in West Palm Beach?
Many different types of preventable accidents and incidents in West Palm Beach, Florida can lead to wrongful death claims. Any accident that stems from someone's negligence, recklessness or intent to harm and causes someone else a fatal injury could give surviving family members and loved one's grounds to file a wrongful death claim. Examples of personal injury accidents that can cause wrongful deaths in Florida to include:
Boating accidents
Bicycle and pedestrian accidents
Premises liability accidents
Defective products or drugs
Occupational injuries and illnesses
Medical malpractice (mostly surgical errors)
After any type of accident that takes the life of a loved one, consult with a West Palm Beach wrongful death attorney about bringing a potential wrongful death claim.
Who is Allowed to File a Wrongful Death Claim in West Palm Beach?
Under Florida Statutes section 768.16, the deceased's personal representative of their estate or an individual listed in their will may file a wrongful death lawsuit on behalf of surviving family members. In the absence of an estate plan or will, the Court will appoint a representative. If there is no surviving spouse or the surviving spouse declines to serve as the representative, the person (or institution) selected by a majority of the decedent's heirs will be appointed. If the heirs cannot agree on a personal representative, the court will decide.
The following surviving family members are legally allowed to recover damages in a West Palm Beach wrongful death lawsuit:
Spouse
Minor Children (children under the age of 25, notwithstanding the age of majority, which includes a child born
to a mother out of wedlock, but not a child born to a father out of wedlock, unless the father has recognized a responsibility for supporting the child)
Adult children (if there is no surviving spouse)
Parents if there is no spouse or children
Any blood relative or adoptive sibling who was partially or wholly dependent on the deceased person for support or services
All potential beneficiaries of a wrongful death recovery (including the estate) must be identified in the complaint, as well as their relationships to the deceased.
What Are Florida's Wrongful Death Laws?
In Florida, a law called a statute of limitations gives you a limited amount of time to file a wrongful death lawsuit. If you wait too long and miss your deadline, the courts will most likely deny your case. Under Florida law, the statute of limitations is two years from the date of the victim's death. This deadline may be postponed, however, under a few unique circumstances. Another law to keep in mind is who has the right to file a wrongful death claim in Florida. Florida wrongful death act restricts this right to only the personal representative of the deceased person's estate. This person may be named in the victim's will or estate plan, or else appointed by the courts. The personal representative can file on behalf of surviving family members, such as a spouse or minor children.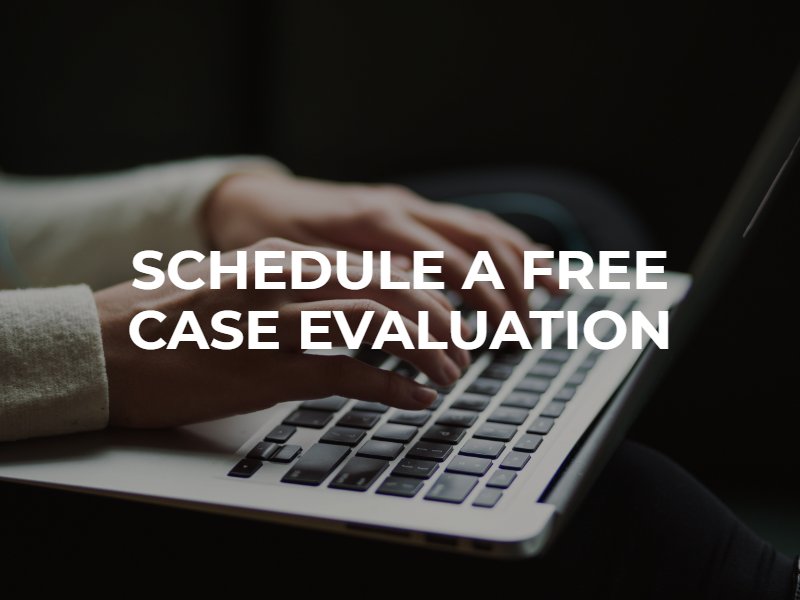 How To Prove a Wrongful Death Case in West Palm Beach
Claiming compensation in a wrongful death case requires proof of the following elements:
Duty of Care
The at-fault party owed the deceased a duty of care—for example, all drivers owe others on the road a duty of care to operate their vehicle safely.
Breach of Duty
The at-fault party violated their duty of care by failing to use reasonable care to avoid injuring others—for example, a driver who sped through a red light or was weaving through traffic.
Causation
The at-fault party's breach of their duty of care directly caused the individual's death—for example, the driver ran a red light and t-boned a vehicle with the victim inside, causing their injuries which led to their death.
Damages
The surviving family suffered losses as a result of the loss of their loved one.
In most cases, the causation element can be the hardest to prove. The at-fault party will often attempt to shift the blame on the victim or another party to avoid liability. Strong evidence that proves fault is critical. A wrongful death attorney will ensure you have the following evidence to prove your claim:
An investigation into the accident to determine all liable parties.
Copies of the police reports, any photos and videos of the accident or scene, the deceased's medical records, and any other necessary documentation.
Eyewitness statements.
Expert witnesses to consult or testify on how the accident occurred, the causation link, as well as the extent of the surviving family's financial suffering.
Available Damages In A Wrongful Death Case
Damages will be awarded in a successful wrongful death lawsuit, which is the legal term for compensation that is meant to reimburse surviving family members for their losses. There are two types of damages typically available in wrongful death cases, economic damages for monetary losses and non-economic damages for subjective losses such as pain and suffering. The types of damages awarded will vary by case but can include:
Medical bills for the deceased related to the accident injuries which led to their death;
Funeral, cremation, or burial expenses;
Loss of the victim's expected income;
Loss of benefits;
Reduction in the inheritance suffered by surviving children;
Loss of parental guidance;
Loss of support and services that the victim provided;
Loss of society, companionship, comfort, guidance, and advice.
Compensation for the conscious pain and suffering the deceased endured due to their injuries before their death.
Interest on top of the damages awarded, which are calculated from the date of death.
Estate administration expenses
In cases involving egregious or extremely reckless behavior on the part of the defendant, punitive damages may be awarded as punishment to the defendant. Under Florida law, punitive damages cannot exceed three times the amount of compensatory damages (for economic and non-economic losses), or $500,000, whichever amount is higher.
Speak to a Caring Wrongful Death Attorney in West Palm Beach, FL
No family should have to go through the tragedy and mental pain of wrongful death. If you are a surviving family member or blood relative facing the unacceptable loss of life due to someone else's careless or reckless actions, do not hesitate to contact LaBovick Law Group for a free consultation about your family's rights and legal options for their wrongful death lawsuits. We want to give your loved one a voice in the civil courts and help be your emotional support during your legal claim. Let us be your legal representation to protect your legal rights for your West Palm Beach County wrongful death lawsuit to help get the compensation you and your loved ones deserve we want to make sure all medical expenses and funeral costs are covered. To request a free case evaluation with a wrongful death lawyer in West Palm Beach, FL, call (561) 623-3681 or contact us online at any time.