Although Florida drivers are required by law to carry auto insurance, some people irresponsibly drive without it. If you have been severely injured in a car accident caused by an uninsured motorist, contact LaBovick Law Group. Our West Palm Beach Uninsured Motorist Lawyer will evaluate your case and discuss your legal options in a free consultation. Call (561) 623-3681 today.
Why Choose Us?
Our team has recovered millions for injured clients in Florida.
We have a deep understanding of how to build a solid case to secure maximum compensation.
We are dedicated to the well-being of our clients and maintain a 98 percent success rate.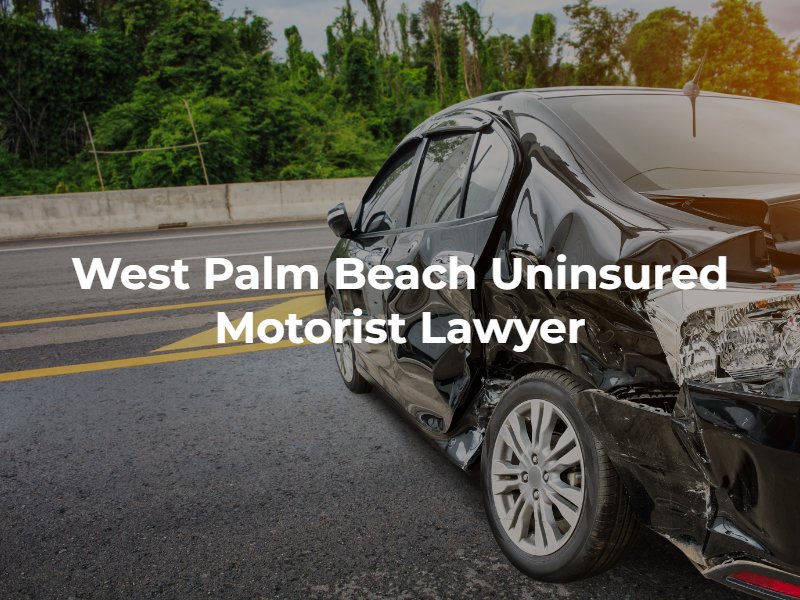 West Palm Beach Uninsured Motorist Accident Resources
Why You Need a Lawyer
Hiring an experienced lawyer is crucial if you are severely injured by an uninsured motorist. Even if your situation seems hopeless, a lawyer has the resources to explore all legal options for obtaining compensation to cover your losses entirely. Although you may be dealing with your own insurance company, it is still common for them to substantially undervalue a valid claim. The sooner a car accident attorney in West Palm Beach is involved, the better your chances at recovering full and fair payment.
Options for Compensation After an Accident With an Uninsured Motorist
Our West Palm Beach uninsured motorist lawyers can help you navigate these options.
Personal Injury Protection (PIP) Coverage
Florida is a no-fault state, which means when a driver is involved in an accident, they turn to their auto insurer for coverage regardless of who was at fault. This policy is called personal injury protection (PIP), which covers 80 percent of your medical expenses and 60 percent of your lost wages. Per Florida's 14-day rule, you must seek medical care within 14 days of your accident to recover compensation from your PIP policy. PIP coverage does not pay for pain and suffering damages.
What Exactly Does PIP Pay For? 
As previously mentioned, under your PIP policy, you can recover the following up to your policy limits: 
Medical Expenses
Unlike other no-fault states, PIP insurance in Florida only covers 80% of your reasonable medical costs related to an accident. For example, if you have $10,000 in medical expenses, PIP will pay for $8,000. The types of costs that are reimbursed include ambulance services, hospitalizations, x-rays, surgeries, prescription medications, rehabilitation, doctor visits, ongoing care, etc. 
Lost Income
If you are unable to work due to the accident, 60% of lost wages will be covered but are subject to the $10,000 limit. This payment also includes services you normally provide but cannot, such as childcare, daily chores, etc. 
Death Benefits
If the policyholder is killed in a collision, PIP covers funeral and burial expenses in addition to medical bills or lost income, up to $5,000.
PIP will only cover up to $10,000, which is the state's minimum and maximum required limit for PIP coverage. If your expenses exceed it, your only option is to file a lawsuit directly against the at-fault party. PIP is different from bodily injury liability insurance, which some other states require, that pays for the medical expenses of drivers and passengers in other vehicles when you are at fault for a collision. 
What Is Not Covered by PIP Insurance
20% of your medical bills

40% of your lost income

Property damage: Florida drivers are also required to carry $10,000 in property damage liability coverage (PDL) to pay for the property they cause damage to. However, in an accident with an uninsured driver, you will have to cover the costs of repairing or replacing your vehicle unless you have purchased optional insurance coverage. 

Pain and suffering
When your losses exceed your PIP coverage limit, you are typically able to pursue a claim against the at-fault driver's insurance company for the difference. When an at-fault driver is uninsured, the only option is to take legal action against them personally. 
Uninsured Motorist Protection
Uninsured motorist (UM) coverage is optional in Florida, which means there is no guarantee you carry it. However, the law requires you to reject this coverage in writing, so if you do not remember doing so, you may have it. UM covers policyholders for injuries caused by accidents with uninsured drivers. The policy limits will be similar to your bodily injury coverage (PIP protection) or higher. If your injuries meet the state's "serious injury threshold," then UM will cover your non-economic losses, such as pain and suffering, mental anguish, emotional distress, etc. Since an at-fault driver is typically responsible for property damage, UM coverage will pay for the repairs or replacement of your vehicle, up to policy limits. 
Optional Car Insurance Coverage
In addition to UM coverage, drivers in Florida can choose to purchase additional insurance coverage. Because state law only allows you to carry coverage in specific amounts, the following types of insurance may help you with expenses if an uninsured driver hits you. 
Collision

: This type of insurance will cover the costs of repairing or replacing your vehicle along with other expenses, regardless of who was responsible for an accident.  

Comprehensive

: This coverage pays for damages caused by non-collision circumstances, such as theft or hitting an animal. 

Medical Payments

: Provides additional payment towards medical bills beyond the $10,000 PIP limit. 

Rental Car Reimbursement

: If you need a rental car while waiting for your vehicle to be repaired or to receive payment for its replacement, this coverage will pay for it. 

Roadside Assistance

: If you need your car towed after an accident with an uninsured driver, your insurer will send a tow truck if you have roadside assistance added to your policy.  
Filing a Lawsuit Against the At-Fault Driver
If your injuries meet the state's serious injury threshold, you can pursue a lawsuit against the at-fault driver personally. Florida's serious injury threshold states that a plaintiff (victim) can recover compensation from the legally responsible party only if their injury consists of one or more of the following:
Permanent and substantial impairment of an important bodily function. 

A permanent disability or injury within a reasonable degree of medical probability. 

Permanent scarring or disfigurement. 
However, these cases are not always successful since the driver may not have any assets if they do not carry auto insurance. Meaning they will not be in a financial position to pay for the damages they caused. Additionally, the uninsured driver may declare bankruptcy if you win, then they will no longer be responsible for paying your settlement. 
Suppose your case is worth pursuing and there is evidence of the uninsured driver's fault. In that case, you can recover the difference in expenses that PIP did not cover, costs for future medical treatment, and possibly pain and suffering damages. If the at-fault party has the ability but is not compliant in paying your awarded settlement, there are several options to recover your compensation. Those include: 
Garnishing the defendant's (at-fault party's) wages. 

Garnishing the defendant's bank account. 

Putting a lien on their non-homestead real estate. 

Seizing personal property via a levy. 
It may also be possible to have the uninsured driver's license suspended until you are paid in full. 
Can You "Stack" Insurance Coverage in Florida?
Yes, you can "stack" insurance coverage in Florida, as long as you didn't choose "not to stack" when purchasing UM coverage in Florida. "Stacking" insurance refers to the ability to add the coverage for one vehicle on top of another vehicle's coverage, which increases the total available coverage. For example, say you have two cars in a household, each covered by a UM policy that has limits of $50,000 per person and $150,000 per accident. If you were to opt-in to stacking those policies and are hit by an uninsured motorist, your available coverage will be combined to up to $100,000 per person and $300,000 per accident. Various other possibilities exist, but this example demonstrates how stacking can work.
Does PIP Insurance Cover Passengers in an Accident? 
If a passenger who owns a vehicle and has insurance is involved in an accident, their own PIP policy will cover them, regardless of whose vehicle they are in. The driver's PIP policy will kick in for uninsured passengers riding in their car when a crash occurs, paying up to $10,000 in medical expenses per passenger and up to $5,000 in death benefits to the surviving family members of a passenger. Before an insurance company extends coverage to passengers, the adjuster will likely conduct a more thorough investigation. As a result, the PIP claims process may be more time-consuming. 
How Does a PIP Deductible Work in West Palm Beach? 
Deductibles are common in many insurance policies, as they keep the premium costs manageable, but they are not recommended for PIP coverage. When you elect for a PIP deductible, the amount is normally $500, $1,000, or $2,000, but cannot exceed $2,000. Having a deductible may save you some money on your monthly insurance bill, but once you must file a claim, it is the amount you must pay before your insurer will extend PIP benefits. The deductible will be subtracted from the total amount your insurer must pay out of the $10,000 limit. For example, if your expenses add up to $10,000, the insurer must only pay 80%, which is $8,000. As a result, you are left paying $2,000 plus the deductible, which can possibly add up to another $2,000 on top of your out-of-pocket expenses. 
What To Do After an Uninsured Driver Hits You
There are critical steps to take after an accident with an uninsured driver in West Palm Beach:
Call the Police
In Florida, drivers must report an accident immediately but are only legally required to do so if someone is injured or killed or if there is $500 or more in property damage. Regardless, it is always a good idea to call the police after an accident, especially when the other party doesn't have insurance. When the at-fault driver is uninsured, you will have the police report stating that fact in their report, which will help make the claims process smoother for you. 
Seek Medical Care
Emergency responders will arrive on the scene and provide treatment or transport you to the hospital if necessary. On the other hand, if your injuries aren't severe and you remain at the scen, be sure to see a physician as soon as possible. Keep in mind Florida's insurance law that states you have a maximum of 14 days to seek treatment after an accident to receive PIP coverage, but the sooner, the better for your health and a potential lawsuit. 
Exchange Information 
You will need the uninsured driver's contact information for insurance purposes, and in case you pursue a lawsuit against them. If you are immediately taken to the hospital, the police report will contain their information. If there are any eyewitnesses, ask how to contact them as well. Their statements can be very beneficial when filing your insurance claim or a lawsuit against the driver.
Go Through Your Insurance
The other driver could face hefty fines and fees for not having insurance, so they may try to offer you money in order to avoid these penalties. Accepting money upfront can be tempting but may wind up costing you more in the end, especially if your injuries are severe or have long-term repercussions. Therefore, it is always best to protect yourself by going through the insurance claims process. 
Gather Details
Write down the make and model of the vehicle involved, time and location of the accident, the direction you were traveling, weather conditions, what happened right before the accident, traffic and road conditions at the time, and the name and badge number of the responding officer. Take pictures or videos of the scene, including the damage done to the vehicles, their final resting positions after impact, the other driver's license plate, any traffic signs, debris, and of your injuries. 
Notify Your Insurer
File a claim as soon as possible. Insurers require notification of a "reportable accident" within one to two days, or they may deny coverage. 
Speak to a West Palm Beach Uninsured Motorist Lawyer Today
If you have been involved in a car accident with an uninsured driver, contact LaBovick Law Group. Our uninsured motorist attorneys in Wear Palm Beach will help you fight for the compensation you deserve. To schedule a free consultation, call (561) 623-3681, or fill out our online contact form.