Nursing homes are designed to provide loved ones with a high level of care, but instances of abuse take place in these settings shockingly often. If you or someone you love is suffering abuse in a West Palm Beach nursing home, contact LaBovick Law Group. We can help with the next steps and discuss your legal options in a free consultation. Message us online or call (561) 623-3681 today.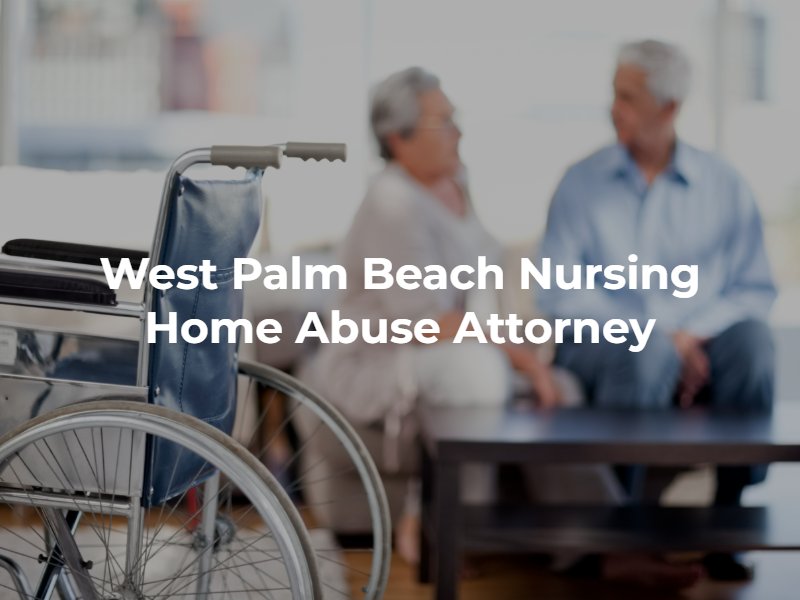 Why Choose Our West Palm Beach Nursing Home Abuse Attorney?
We have extensive experience protecting the rights of elderly abused victims.
Our Personal Injury law firm in West Palm Beach possesses the resources and dedication to obtain the maximum amount of compensation possible.
Our case success rate is over 98 percent.
Why You Need a West Palm Beach Nursing Home Abuse Lawyer
Nursing home abuse is devastating for victims and their families. A lawyer with experience handling these cases understands the severity of the situation and how important it is to find answers and hold the wrongful parties accountable. An attorney can contribute their thorough understanding of the relevant case laws, as well as the resources to investigate the abuse and gather the evidence you need to seek justice. They will ensure you and your family are treated fairly by the nursing home and their insurance company while protecting your rights to the compensation you are owed.
Common Types of Nursing Home Abuse and Warning Signs
Nursing home abuse can come in the following various forms:
Physical Abuse
Physical abuse can involve hitting, kicking, biting, punching, pinching, improperly restraining, burning, or any other kind of intentional harm.
Warning Signs: unexplained cuts, bruises, marks on wrists or any signs of restraint, fractures, sprains, an over-medicated state, or appearing under-medicated.
Sexual Abuse
Sexual abuse involves any type of non-consensual sexual contact between a nursing home staff member and a resident.
Warning Signs: bruising, bleeding from the genital area, torn or bloody clothing or undergarments, unexplained genital infections or sexually transmitted diseases, withdrawal, angry, or have other emotional changes.
Emotional Abuse
Emotional or psychological abuse is prevalent in nursing homes, which can be inflicted by bullying or harassing residents, prohibiting social activities, teasing or humiliating, not allowing visitors or time with family, and any use of words or actions to threaten or intimidate a resident.
Warning Signs: changes in personality or behavior, withdrawal, depression, nervousness, anxiety, or frequent arguments between the resident and staff.
Neglect
Neglect can be less obvious and is often harder to prove. The nursing home staff may be intentionally harming the patient, or it could be unintentional if, for example, the facility is understaffed.
Warning Signs: deteriorating health, bedsores, drastic weight loss, poor hygiene, malnutrition, dehydration, unexplained injuries, or staff prohibiting visitors.
Financial Exploitation
Nursing home employees may manipulate residents for financial gain.
Warning Signs: changes in regular banking habits, sudden and significant withdrawals, abrupt changes to a will or estate plan, or personal possessions disappearing without explanation.
What are Common Nursing Home Injuries?
Unfortunately, many nursing home residents suffer severe and preventable injuries as a result of abuse. Commonly reported injuries include: 
Fractures From Falls

: If, for example, nursing home staff provide inadequate medical care or overmedicate a resident, it may cause a fall that can result in a bone fracture. A severe break may require surgical intervention and months of recovery. 

Infections From Bedsores:

If a resident is left lying or sitting still for long periods, such as in a bed or a wheelchair, they will likely develop bedsores. If left untreated, these open wounds can become infected and, with time, can progress and cause shock, pulmonary arrest, and even death. 

Malnutrition

: Failure to provide food or oversight of a resident who cannot absorb the nutrients in food can lead to physical weakness, which increases the risk of falling and developing infections or other medical problems.

Dehydration

: If a resident does not receive the liquids they require, has an untreated illness, or takes medications such as diuretics and is unmonitored, they may suffer from dehydration. It is especially dangerous for older adults, as it can cause a variety of serious health problems such as urinary tract infections, kidney stones, falls, and more. 

Complications from Medication Errors

: Administering the wrong medication or incorrect dosage can cause injuries, ranging from mild injuries such as a rash due to an allergy or as severe as brain damage. 

Wrongful Death

: Abuse by nursing home staff or due to the administration's negligence can contribute to or cause a resident's death. In those cases, surviving family members have the right to file a wrongful death lawsuit for compensation.
This is not an exhaustive list of the types of preventable nursing home injuries. Oftentimes, had a resident received the proper care and attention they deserved from the beginning, these injuries would not occur. 
Factors That Contribute to Nursing Home Abuse
Several factors can contribute to a nursing home resident being particularly vulnerable to abuse:
Poor Cognitive Function

: Residents with mental health problems or psychological disorders are at a significantly higher risk of suffering abuse. According to the

World Health Organization

(WHO), worldwide, up to 50% of people with dementia suffer some form of abuse. 

Physically Dependent

: The more reliant a resident is on the staff, the more prone they are to be abused. 

Socially Isolated

: Abuse can go undetected if a resident doesn't have a support system and isn't visited regularly by family or friends. 

Lower-Income

: An elderly person with a lower-income background will likely be placed in a lower-quality facility with a higher risk of abuse. 

Race

: Racial disparities in nursing home care include higher rates of abuse and neglect among residents of color. 
What Are the Laws Against Elder Abuse in Florida?
Nursing home residents in West Palm Beach have the following fundamental rights established by the 1987 Nursing Home Reform Act: 
Freedom from abuse, mistreatment, and neglect

Freedom from physical restraints

The right to privacy

The right to have personal belongings and property

The right to be informed of medical conditions and to consult a doctor of their choice

Participate in the review of one's care plan and be fully informed in advance about any changes in care, treatment, or change of status in the facility

The right to refuse medications and treatments

The right to an environment that provides maximum comfort and independence

The right to a choice as to their schedule and whether they participate in resident and family groups

The right to be treated with dignity and respect

The right to manage finances or designate someone of their choice to do so

Voice grievances without discrimination or reprisal
Florida's Statutes on Residents' Rights
Florida law furthers residents' rights under Section 400.022 of the Florida Statutes by detailing that nursing home residents should be assured the following: 
Private and uncensored communication.

Visitation by any individual that provides health, social, legal, or other services and the right to deny or withdraw consent at any time.

Participation in social, religious, and community activities that do not interfere with the rights of others.

Right to view recent facility inspections by federal and state agencies, including any plan of correction. 

A quarterly accounting.

Complete information on the services available at the facility and their charges.

Adequate and appropriate health care, protective, and support services within established and recognized standards.

The right to choose their physician and pharmacy.

Notification before room changes.

Information concerning bed-hold policy for hospitalization.

A transfer or discharge only for medical reasons, the welfare of other residents, or nonpayment of a bill.

30-day advance written notice of discharge or relocation and the ability to challenge such notice.

Copies of the rules and regulations of the facility.
What To Do if You Suspect Nursing Home Abuse in West Palm Beach
If you are in imminent danger or believe a loved one is, call 911. Otherwise, document the abuse as much as possible and file a complaint with the Florida Agency for Health Care Administration. This can be done by:
In the meantime, speak to a nursing home abuse lawyer to discuss your legal options and what evidence to collect.
Can You Sue a Nursing Home for Abuse in Florida?
Nursing homes owe a very high duty of care to residents and their safety. Failure to provide the appropriate  treatment, care, goods, or services expected of them to maintain a resident's health is considered negligence. When a nursing home's negligence is responsible for your loved one's abuse, you have the right to hold the nursing home liable. Grounds for a nursing home abuse lawsuit against a facility commonly arise from: 
Negligent hiring of staff (e.g., failure to perform background checks)

Lack of or improper training of staff. 

Failure to monitor staff properly.

Intentional abuse by staff members (vicarious liability).

Failure to provide adequate security.

Failure to provide daily necessities (e.g., food, water, personal hygiene, clean living conditions, etc.).

Failure to prevent or treat bedsores.  

Failure to provide medication, proper dosage, or regular doctor visits. 

Failure to provide adequate supervision, assistance, or devices to prevent accidents.

Restraining a resident unreasonably or dangerously.
Elder abuse is often a result of stressed and overworked caregivers or even fellow nursing home residents. However, the facility itself is responsible for your loved one's health, safety, and wellbeing. When someone you love is injured in their nursing home, you have the right to know who caused their injuries and who is liable. An attorney can help you identify the at-fault party and hold them accountable.
How Does a Lawyer Collect Evidence for a Nursing Home Abuse Case?
After you contact a nursing home abuse lawyer, they will immediately put their resources to work to investigate your claim and gather critical evidence. Depending on the circumstances of your case, an attorney may help you gather the following types of evidence:
Documentation on the facility's hiring and training practices

Records on staff, including their background checks and learning how many are scheduled to work at a time (may indicate the facility is constantly understaffed)

Copies of inspection reports

Records of previous complaints

Statements from other residents who may have witnessed the abuse or are also victims

Statements from family members and any other potential eyewitnesses

Copies of medical and billing records

Medical expert testimony on the extent and severity of the resident's injuries and the cause

Security footage, if available

Keycard data that shows when staff members entered the victim's room ( may be evidence of inadequate attention or place the staff member in the room at the time of the incident)

Banking records

And more
The moment you suspect that abuse is occurring, document any evidence you can. Take photos of injuries or other physical warning signs, write down things the resident has told you or make notes about their state of mind and physical wellbeing. Gather any records you have access to that may indicate abuse. Before confronting the nursing home, speak to an attorney first. You will need solid evidence of negligence for a successful claim, and they can advise you on what to do next. 
Is There a Time Limit on Filing a Nursing Home Abuse Claim?
If you discover a loved one has suffered nursing home abuse in West Palm Beach, it is crucial to know how much time you have to pursue a claim. All civil lawsuits are subject to a "statute of limitations" that sets a deadline on how long victims have to recover compensation. Most nursing home abuse cases are filed as negligence claims, which under Florida law, you have two years to pursue, starting from the date the abuse was discovered or reasonably should have been discovered. 
Figuring out when this clock starts can be challenging in nursing home abuse cases since it is typically not a single incident but an ongoing issue. However, if you miss this deadline, you are barred from recovering compensation. A nursing home abuse lawyer can help you determine precisely how long you have. 
Contact Us For Help
We offer free consultations and will advocate for you or your loved one until you receive justice. Call (561) 623-3681 or message us online today.